We had left at 4 pm two Tuesdays ago. My fiancé  Madeleine and I were driving to Tyler, Texas from the northwest corner of Arkansas. As the sun began to set, our GPS directed us to exit off Highway 59 and onto Mountain Gateway Scenic Byway through the Ouchita Mountains of Eastern Oklahoma. Although it wasn't a Friday, the wind in our hair felt too good not to be blasting a song like Eric Paslay's "Friday Night" on "the wide open road" with one another, especially taking in a view like this one: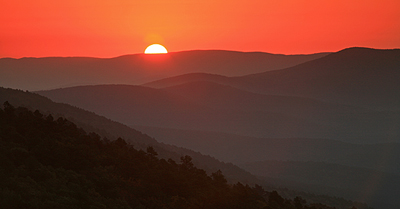 By the time we got closer to the Texas border, we had to stop in a tiny mountain-valley town in Southeastern Oklahoma for dinner at one of two local restaurants. We chose the Subway. And as we walked in, we were greeted by thick southern accents and country music playing in the background – sounded like Luke Bryan. We had begun to see a theme in the music we heard walking into restaurants and coffee shops. Even before we left the Fayetteville area of Arkansas, we went to Fayettechill outdoor store/bar/coffee, and we had heard, ironically, "Drunk on Your Love" by Brett Eldredge.
We finally made it safely (after two flat tires) to Tyler, Texas and linked up with my parents and my sister for a bit of family vacation. Although Madeleine had to leave for Houston, the country music definitely decided to hang around. It didn't matter if my family and I went to a diner or a museum, we just kept hearing country music everywhere. I can't say I was surprised to walk by the Skyline Café of Tyler's Historic Aviation Memorial Museum and hear, you guessed it – country. To be fair, the Dolly Parton song playing at the time did seem fitting to a museum café with linoleum flooring that seemed stuck back in time (maybe the 70s).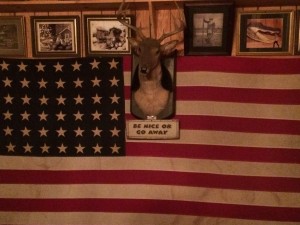 What did come as a surprise was in the quiet of a barn at our Bed & Breakfast spot in Tyler, the Rosevine Inn. I sat on the comfortable leather sofa facing the warm blaze within the stone fireplace ahead of me, looking at this scene on the wall to the left. There it was. An American flag and a mounted deer head. Enjoying the silence and the crackling fire's subtle attempts to break it, I walked over to take a closer look at this deer, whose placard said, "BE NICE OR GO AWAY."
I hadn't gotten up and taken two steps towards the deer before my heart skipped a beat. It turns out that this was no taxidermy – it was an animatronic deer! He introduced himself to me as his plastic, mechanically-controlled head jerked around. Then, this deer launched into song, lip-syncing a classic – "Friends in Low Places" by Garth Brooks.
On this Spring Break road trip through Arkansas, Oklahoma, and the top of East Texas, I realized just how deep country music runs in the soul of the South. Whether it was a fast-food restaurant, coffee shop, museum café, or yes, even a talking deer head – country music was what I heard.
And so I have a challenge for you – next time you're driving  North through these States in our part of the South (especially once you hit Oklahoma), whether you pull in to a Sonic or stop to check out a a local store, pay close attention to what's on the radio. I knew country music was popular, but I had no idea that it was practically all I'd hear on my road trip. But hey, with music as good as I heard, I'm certainly not complaining.