This semester I was able to attend many events related to country music. It was especially nostalgic for me since I will be moving away from Texas after I graduate this semester. Here are some of the highlights:
Two Stepping at the Houston Rodeo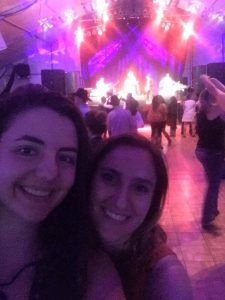 This year I was extra excited to go to the Houston Livestock Show and Rodeo. A lot has changed since the first time I went in 2005, specifically I was finally 21 and could go to the mysterious after party. The only band I could convince my country-hating roommate to see was The Band Perry. It was her first rodeo so we went around and saw everything, from the mutton bustin' to the fried oreos. We had a great time watching the rodeo and The Band Perry show. Finally we headed over to the after party, which had a live band and a huge dance floor. I learned the basics of Two Step in my hometown and I learned a walking Two Step in college, but the people at the party were not dancing either of those versions. The people were dancing Two Step in a way that was much closer to Foxtrot, the dance from which Two Step originated. Foxtrot is usually danced to Jazz music (especially Sinatra), and after making that connection, I could hear some of the Jazz influences in many of the slower country songs. I thought it was really interesting how the dance and music evolved together.
Little Longhorn Saloon
Before leaving Austin, I figured I should go to "Chicken Shit Bingo" at Little Longhorn Saloon. It was a beautiful day and the saloon was very crowded. Peewee Moore, an Outlaw country singer, was playing. He definitely dressed the part and had a huge beard and lots of tattoos. Most of the people at the saloon either looked like tourists or like they could be Outlaws themselves. On one of the most Texan days of my life, I sat in Little Longhorn Saloon drinking a Shiner while listening to Peewee's cover of a Willie Nelson song and waiting for a chicken to shit on a bingo board.
Turnpike Troubadours at the Austin Rodeo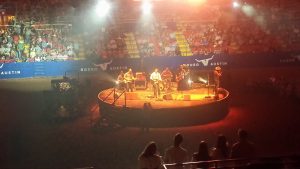 I was also lucky enough to go to the Austin Rodeo this year and see a show by Turnpike Troubadours. I'd only heard a few of their songs before, but there were a lot of young people who knew a lot of their music. Nonetheless, I really enjoyed the show. Many of their songs have a rock feel because of the drums and electric guitar. They also played some new songs which sounded more folksy than their popular songs. Like many young bands, they also performed some covers including Dolly Parton's "Jolene". I will definitely be on the lookout to see what they release next.
Walk the Line Movie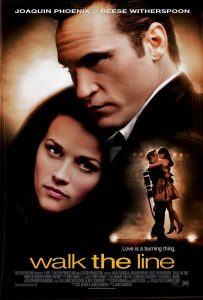 My boyfriend and I watched Walk the Line after he confessed that he did not know who Johnny Cash was (in his defense, he didn't grow up in America). Walk the Line is a biographical movie about Johnny, starring Joaquin Phoenix and Reese Witherspoon. I'd seen the movie when I was younger, but was excited to watch it again after learning so much about country music and Johnny this semester. One thing that I didn't realize was that Jerry Lee Lewis and Elvis Presley were in the movie and playing similar music as Johnny. Learning about Johnny's history also helped me understand his daughter Rosanne's album, Black Cadillac, which is about Johnny and his life.
I've always loved country music, but this semester I learned how to recognize the influences of previous artists and other genres on country music. Without this class I would've never been able to make so many observations about the music at these events. I am able to hear the influences of artists that we talked about in class on new country artists. I heard the influence Emmylou Harris on Turnpike Troubadours and Kris Kristofferson on PeeWee Moore. This knowledge gives me a deeper appreciation for the music and its place in history.