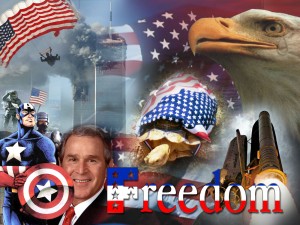 Many people disagree with Toby Keith and his views on what it means to be an American. Artists such as The Dixie Chicks lead singer Natalie Maines have been known to speak out against Keith and his personal opinions. A week after 9/11, Toby Keith came out with a single titled "Courtesy of the Red White and Blue (The Angry American)." Keith noted on 60 Minutes II that it only took him 20 minutes to write this song.
I guess 20 minutes was all that was needed to express how Keith was feeling. In the first verse he explains how his father served in the army and how his nation is now under attack. When listening to this song we realize Keith is fully supportive of the war for various reasons. Critics have bashed this song for creating the appearance of Americans to be insensible. According to the CBS News review of the song, Natalie Maines stated that "she was embarrassed George Bush was from Texas" and that the song "made country music seem ignorant" (Leung).
But really, how in any way is this song ignorant? I enjoy listening to Toby Keith for this exact reason. He has a way of bringing out the patriotism for America to his audience. Keith has built his credentials for being a true American and has a great way of expressing it through his music. In fact, after releasing this song, CBS News stated that Keith has never been more famous or wealthy. The year the song dropped he will gross more than $45 million from his music.
Lyrics such as "We'll put a boot in your ass, It's the American way", is one of the specific lines out of the song that has seen criticism for Toby Keith. Seeing this criticism, it makes me wonder what the people who speak out against Keith would want to listen to after 9/11? I was only in first grade when the twin towers went down, but I can assure you that if I were in high school when it happened and had heard this song, I would be so ecstatic to put a boot in the Taliban's ass. I would not want try to make peace with the terrorists after 9/11, and I don't understand how any true American can bash Toby Keith for stating how he feels about it.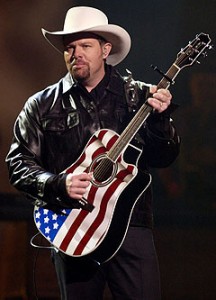 Keith didn't stop after seeing that some people did not agree with him. He went on to create an album titled Shock 'N' Y'all, which contains a collection of songs that some humanistic people might see as controversial. One specific song is titled "The Taliban Song." Keith says, "Now, The Taliban song is a funny song. It's about a peace-loving Afghanistan man who's trying to get out of Afghanistan while the Taliban evening news report is telling everybody to remain calm." Keith is representing the patriotic American that's in most of us and by listening to his music we can relate. So yes, Natalie Maines and friends, justice has been served and the battle has raged, and I hope you're sorry you messed with Toby Keith because he speaks the truth for the U.S. of A.
Leung, Rebecca. "Courtesy Of The Red, White & Blue." CBSNews.com., 28 Oct. 2003. Web. 17 Nov. 2014.