Written by Samantha Godfrey. 15 March 2015.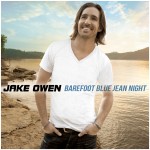 Jake Owen, a Florida native who took up guitar while recovering from shoulder surgery following a wake boarding incident in college, is one of the top country artists at this moment in time. After quitting college just shy of graduation to make his pilgrimage to Nashville, he has been successful with all the albums that he has released, especially his album Barefoot Blue Jean Night. This album has been said, multiple times, to be his best work yet. It includes a variety of sounds from a superbly chosen stack of songs. The songs range from country rock, acoustic ballads, and party anthems. All the songs tell a story and definitely go along with Owen's "easy does it" vibe.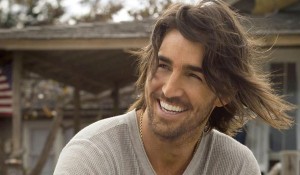 Jake Owen was raised in the coastal town of Vero Beach, Florida. He attended Florida State University where he was a member of their golf team. He then suffered a severe shoulder injury while wakeboarding. It was while his arm was stuck in a sling that he figured out his true purpose in life, realizing that he could still hold a guitar and write songs (CMT Artists). After his recovery, Owen became a regular club entertainer once he decided to leave college. It was in 2005 that Owen switched from performing in Florida bars to moving to Nashville, and within months he had a Music Row song-publishing contract. Less than a year later he signed with RCA records and was on the charts with his first two singles, "Yee Haw" and "Startin' With Me." He opened shows for Kenny Chesney, and Brad Paisley also took him on the road where he scored his third hit, 2007's "Something About a Woman." In 2008, he opened shows for Sugarland, and was Keith Urban's touring partner on the Get Closer 2011 World Tour (CMT Artists). Jake Owen has enjoyed major-league success with such performances as 2008's "Don't Think I Can't Love You" and 2009's "Eight Second Ride". His revival of "Life in a Northern Town" with Sugarland and Little Big Town in 2008 earned him Grammy and CMA Award nominations. Owen was named 2009's Top New Male Vocalist by the Academy of Country Music. But nothing, he says, compares to the impact Barefoot Blue Jean Night is making (CMT Artists).
Barefoot Blue Jean Night is Owen's third album of four total and was released on August 30, 2011. It includes eleven tracks that contain the "Barefoot Blue Jean Night" single, the album's title track. This was the most successful song of the album, which peaked at number one on the U.S. Country Airplay charts, twenty-one on the U.S. charts, and fifty-two on the Canadian charts. It also went double Platinum. The single is a catchy, clap-along track that highlights the goodness of summer, like beautiful women and cold beer. The chorus, in particular, holds the feeling of being young and free-spirited; it certainly was an anthem for anyone who knows the feeling of late night trouble-making and being barefoot to the cool pavement.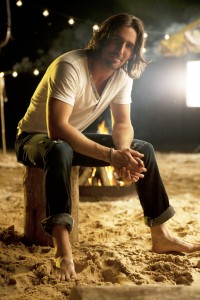 In this album, the songs all seem to follow along the same guideline of embracing the laid-back attitude that follows the summer season. Each song almost represents a typical summer day, or night, that one might experience. There are songs that celebrate the party atmosphere summer provides, like the track "Nobody Feelin' No Pain." Throughout this particular song, you get the feeling that you are on tour with Jake Owen. He really seems to grab his audience when he chose to include spoken lyrics right in the middle of this song. During this moment, Jake Owen asks his audience what they do once the hotel bar and pool close and then follows by saying, "what you probably did was go down to that old icemaker, down there in the hallway and start fillin up that bathtub, in your room with as much ice and as much liquid refreshments as it would possibly hold, and pretty soon you got a big ol' party goin on," leaving you with the desire of wanting to party. Having Barefoot Blue Jean Night released right as summer finished proved to be very successful for Owen, most likely due to the fact that everyone holds on to their summer as long as they can.
The year 2011 was also a year filled with financial instability, as the economy appeared to crash. With Barefoot Blue Jean Night being released, it helped create an escape for forty minutes from the huge stress and responsibility everyone faced. The theme Owen allows his listeners to live vicariously through in his music is the topic of love, with songs like "Alone With You" and "Anywhere With You". The upbeat guitar strums automatically put a smile on listener's faces when "Anywhere With You" starts playing. The track allows you to create an image in your head of a trip with your "certain somebody," traveling this great country. Owen paints a summer romance built around fun and sporadic whims.
This album was very successful since the beginning, as it landed the number one spot in the US Billboard Top Country Albums and number six on the US Billboard 200 chart in 2011. Owen only helped write one of the songs out of the eleven, which was "The One That Got Away." This signaled a different approach Owen's decided to take with this album than his previous two, which he wrote or co-wrote everything on.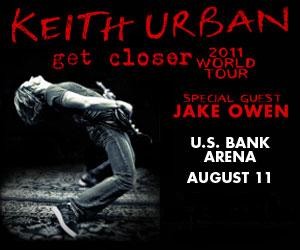 Turing into the Nashville star he is today looked to start for Jake Owen when he took the opening slot on Keith Urban's Get Closer tour. Sony Music Nashville CEO Gary Overton said for Owen "to be out in front of Keith Urban [then], [was] a perfect crowd. He [did] a phenomenal job and the reaction [was] wonderful,'" (Price). Gaining that exposure from Keith Urban helped Owen sell his hot single "Barefoot Blue Jean Night." Urban's world tour was set with an elaborate steel lighting shaped like roller coaster and Ferris wheel that served as his backdrop, indicating that summer would be written all over it. Throughout this tour Urban released big songs, such as "Put You In a Song" and "Without You." From all that exposure Owen was selling 65,000 downloads of the single every week.
The big turnaround for Jake Owen, and how he was riding his biggest hit with his third album, was because of Owen's choice to remake his team. Owen's single "Barefoot Blue Jean Night," written by Dylan Altman, Terry Sawchuk and Capitol Records newcomer Eric Paslay, was the starting point in his different take on this album. Barefoot Blue Jean Night also finds Owen working with a new set of producers. Owen stated he had to go with his "gut feeling" and leave Jimmy Ritchey, who produced Owen's first two albums. He then let in Tony Brown, known for working with George Strait and Reba McEntire, songwriter Rodney Clawson (Strait's "I Saw God Today" and Jason Aldean's "Amarillo Sky"), and Joey Moi (Nickelback) (CMT Artists). Because of being so suddenly thrust into the spotlight on the road, Owen never really go to know the Nashville country community, which he comments was the reason for his big change. Owen explains that he "'realized that [he] wasn't using the tools that this town, [Nashville], [gave him] with all these amazing songwriters. By recording all of these outside songs, people [felt] like they [had] vested [an] interest and they were pulling for [him],'" (Price).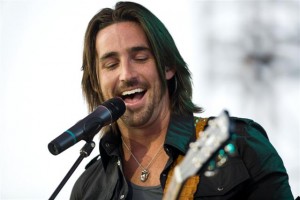 Owen never seemed to receive backlash from his audience fan base for switching his sound. In fact, Melodie Stickrath "Meledstick" and Ficwriter1966 from Amazon rated this album and new sound a five out of five stars. They both loved his "mixture of styles – some serious, some playful, all performed with that sense of 'let's all just hang out and have some fun' attitude." Only two people gave Barefoot Blue Jean Night one star. R. E. Davidson says he is too commercial music. Of course, Davidson is probably biased because he then goes on to express his opinion that country music's purpose is to validate mediocrity. However, even after almost four years from the album's release date, the majority of his fans still love this album. They still are giving it a five out of five stars. Which, some say, could be attributed for Owen taking advantage of social media, especially Twitter, to develop a strong relationship with his fans (Price).
---
Tracks:
"Anywhere With You" (B. Hayslip, D. L. Murphy, J. Yeary)
"Keepin' It Country" (R. Clawson, C. Tompkins)
"Wide Awake" (B. Eldredge, D. L. Murphy, R. Rutherford)
"Barefoot Blue Jean Night" (E. Paslay, D. Altman, T. Sawchuk)
"Heaven" (C. DuBois, A. Gorley, M. Jenkins)
"Apple Pie Moonshine" (R. Clawson, C. Tompkins, C. Kroeger, C. Wiseman)
"The Journey of Your Life" (R. Bowman, T. Jones)
"Alone With You" (C. Gravitt, J. T. Harding, S. McAnally)
"Settin' the World On Fire" (D. George, C. Jones, K. Moore)
"Nobody Feelin' No Pain" (B. James,  D. L. Murphy)
"The One That Got Away" (D. Davidson, J. Owen, J. Ritchey)
---
Works Cited
"Barefoot Blue Jean Night." Wikipedia. Wikimedia Foundation, n.d. Web. 08 Mar. 2015.
"Jake Owen Bio | Jake Owen Career." CMT Artists. Viacom International, Inc., n.d. Web. 08 Mar. 2015.
Price, Deborah E. "Doin' My Thing." Billboard. 3 Sept. 2011: 33. Academic Search Complete. Web. 26 Feb. 2015.