Written by Randle Cecil. 23 March 2015.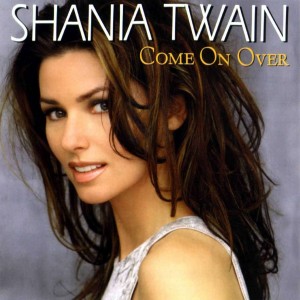 Shania Twain definitely rocked the country music world in the late 90s and early 2000s by throwing aside any restraining Nashville conventions and creating her own sassy pop sound with her midriff exposed. She led the way for female country singers who wanted to shed their middle-aged housewife image and adopt a sleek and sexy look. After the enormous success of her second studio album in 1995, The Woman In Me, this Canadian born artist was able to create her own sound with a vast collection of ears between Madonna and Garth Brooks. She has been known to inspire young women to be fearless and powerful while also displaying wit and style. The upbeat sound of her music paired with the twang in her voice has allowed her to still be a "country" artist. Her album Come On Over (1997), definitely displayed zest and seductiveness and managed to confuse critics about which genre this album should be placed under. Some argued that it was a pop album, but the traditional instruments used helped classify this album as country. It is safe to say that Come On Over is within the sub-genre Country Pop, a sub-genre that we still see emerging to this day. The uniqueness of this album has allowed it to sell 40 million copies and become the best selling studio album by a female of all time, and the best selling country album of all time. Two years after this album was released, both the Academy of Country Music and the Country Music Association awarded her Entertainer of the Year. Shania could even be credited with paving the way for pop artists that emerged a little later, such as Britney Spears.
However, Twain did not always experience success throughout her life. She grew up in the small mining town of Timmins, Ontario along with her four siblings that her mother raised alone for most of their childhood. Shania's talent as a singer was discovered when she was only four years old while singing on a table to a jukebox in a local diner. In need of money, her mother booked her in front of every open microphone in northern Ontario. At age 13, Shania was invited to perform on CBC television's The Tommy Hunter Show which helped get her name out into the music world. Her mother eventually remarried to Jerry Twain, and the couple constantly struggled for work, leaving Shania no option but to find a job at McDonald's and put her casual music career on hold. She hopped from band to band while she was young until she discovered that her parents had passed away in a car accident, leaving Shania to be responsible for her three younger siblings. She had no idea what she wanted in life, so she decided to put together a demo tape, and in 1991 Mercury Nashville signed her to a contract. Shania always focused on her own creativity to guide her music career, because she did not have professionals guiding her early on in life.
Most fans of Shania Twain have no idea about the struggles she faced as a young girl. Her birth name is actually Eilleen, but when she signed with her first company she adopted the stage name Shania, meaning, "I'm on my way" in Ojibwe, her stepfather's native language.  With her effortless talent she attracted her husband Mutt Lange, who happened to be one of the wealthiest men in music at the time. Lange has produced albums for artists such as AC/DC, Def Leppard, Maroon 5, Nickelback, and many others. His success with rock and pop music shows his versatility as a songwriter, which allowed him to help his wife bridge the gap between country and pop. Together, they wrote all of Shania's songs and introduced a new country pop sound. Her journey from poverty to stardom was not an easy road, yet Shania never mentions her struggles in any of her albums, including Come On Over. This was the album that would establish her as a successful crossover singer.
Come On Over produced several singles, including "You're Still the One", "From This Moment On" and "Man! I Feel Like A Woman!", and others that earned Twain four Grammy Awards. These hit songs display an easy-going, life-loving tone for the audience, especially for young female listeners. However, young female listeners are not the only set of people that she has reached out to with these songs. Critics of this album on iTunes and Amazon range from young girls to middle-aged men and women. Shania believes in writing music only for the audience, not for herself. Anyone who has listened to her album Come On Over knows that sadness and hardships are rarely discussed in her lyrics. She chooses to leave out her personal life and only write about things that she feels her listeners want to hear. She once said, "I am a commercial singer. I hear other singers say, 'What I do is artistic, and I do it for myself.' I don't get that. If you're making it just for yourself, why sell it?" This album is definitely not for the fans that want to get to know Shania on a personal level.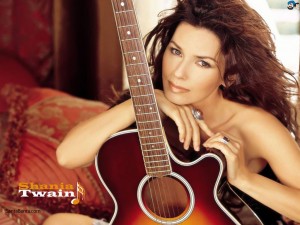 From a rhetorical perspective, this album focuses on female empowerment in a time when female artists were becoming younger and younger in country music, which makes Shania's lyrical approach in her album a success. In 1997, when this album was released, many females were beginning to become recognized as dominant pop and country music artists, and Shania managed to establish her credibility with both genres. Songs such as "Rock This Country!" and "That Don't Impress Me Much" allows her to be viewed by her listeners as a powerful female who doesn't allow anything to get in the way of her success. Fans of Come On Over enjoy a seductive pop sound, which is exactly what Shania brings to the table. Her country pop sound allowed country music to take on a younger, sexier, and more glamorous vibe that was not fully introduced before. Her lyrics avoided honky-tonk and redneck themes; instead they took on a more philosophical and optimistic outlook. Country pop today has copied Shania's approach and has been a huge success with young and middle-aged music-lovers. However, country purists who enjoy Dolly Parton and Loretta Lynn view Shania's album as a crossover album that displays little original country sound. Because this album cannot be classified in a distinct category of music, fans that enjoy all types of music such as pop, rock, and country can enjoy the unique catchy tunes found in this album. Her ability to reach all different types of fan groups with her unclassified sound allowed her to receive five Grammy Awards, 27 BMI Songwriter awards, and earn an induction into the Canadian Music Hall of Fame. These awards can be attributed to her success with her albums The Woman In Me, Come on Over, and Up!.
Shania is set apart from other female artists of the late 90s and early 2000s because she had no real interest in becoming famous, yet her talent led her down the path to extraordinary fame. She wrote songs for her audience, not for herself, which allowed her fan base to become broader than any fan base of any country music artist before her. Come On Over definitely had the ability to connect with country-loving and pop-loving listeners because of its versatility and universal message of female empowerment, which is something the country music industry lacked before Shania stepped onto the playing field. Even though Shania loves to create a pop sound, she expresses her love for country as well when tells her fans "Country music is still your grandpa's music, but it's also your daughter's music. It's getting bigger and better all the time and I'm glad to be a part of it."
---
Track List:
"I'm Holdin' on to Love (To Save My Life)"
"Love Gets Me Every Time"
"Don't Be Stupid (You Know I Love You)"
"From This Moment On"
"Come On Over"
"When"
"Whatever You Do! Don't!"
"If You Wanna Touch Her, Ask!"
"You're Still the One"
"Honey, I'm Home"
"That Don't Impress Me Much"
"Black Eyes, Blue Tears"
"I Won't Leave You Lonely"
"Rock This Country!"
"You've Got a Way"
---
Works Cited
"Come On Over." Amazon.com: Shania Twain: Music. N.p., n.d. Web. 06 Mar. 2015.
"Come on Over by Shania Twain." ITunes. N.p., n.d. Web. 06 Mar. 2015.
Neal, Jocelyn R. Country Music, A Cultural and Stylistic History. New York: Oxford American Press. Print.
"Shania Twain Biography." Bio.com. A&E Networks Television, n.d. Web. 05 Mar. 2015.
Tyrangiel, Josh. "Shania Reigns." Time 160.24 (2002): 80. Music Index. Web. 1 Mar. 2015.