Every young swimmer faces a hard time when they start the dreaded morning practices. The alarm starts ringing early, and life seems to be lived in the dark. When I was fourteen I was moved to the senior group of my home swim club, FAST. This meant that Monday, Wednesday, and Friday I was in the water at 5:30 am sharp.
To be in the water by 5:30 I had to get to the pool by 5:15 which meant getting up at 4:50 to eat. Needless to say it was a hard adjustment for fourteen-year-old me. Getting up wasn't even the worst part. It was going straight to school from the pool that did me in. Out of the pool at 6:50 we had to be at school by 7:30, which meant leaving the pool at 7:10. With the day entirely planned out we had just enough time for the highlight of the mornings. A warm, almost loving, shower. For a while we would just shower, and watch our time wind down before we had to go make it through school, then come back for another practice. Then country music changed everything.
Armed with a water proof speaker, we were now ready to beat the day. There were about ten of us that would really listen to the music coming out of the speaker, and we had ten different opinions about what should be coming out of the speaker.
Each and every one of the swimmers in the men's locker room would hear a song and say "NO, NO, NO! We can't listen to this to start the day! I am not going to have Katy Perry in my head all day." This constant bickering lead to the demise of our beloved speaker. It stayed away for about a week when two juniors on the team, Jason and Austin, walked in the locker room with the speaker proudly above their heads, and grins stretching across their faces.
These two guys had found a song, so perfect, so right for the start of the day, and so easy to sign along to it would reunite the ten of us in the showers. Hounded with questions they said nothing except "Listen up"
Travis Tritt's  twangy voice rolled smoothly out of the speaker as he sang "I've got some rice cookin' in the microwave." The entire locker room audience was hooked as his voice boomed in singing "and im doing all right, and it's a great DAYYY to be alive." The coming weeks this song about each day being great was a staple of our locker room listening diet.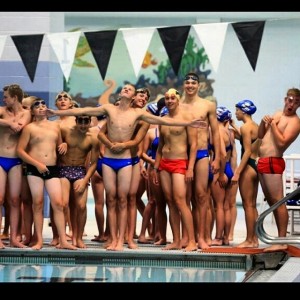 I still believe that we liked this song because we could all relate to what he was saying. Even if none of us made homemade stew, or had three day beards that need shaving, we all knew what it was like to be a little down… We were at morning practice for gosh sakes. No matter how down we would get about a hard practice, or a mountain of homework waiting at home we would always know that it was a great day to be alive.
This one song brought us together and it turned into a way of cheering up a friend who was down. If a teammate was obviously upset, all it would take to bring up their spirits was simply saying "Hey man, it's a great day to be alive." This had our team sitting as happy as could be.
As Jason and Austin Graduated, we listened to less and less of Travis Tritt in the locker room. He faded away just as Tritt's voice does in the singing of this song.  Even though "It's a Great Day to Be Alive," was no longer a fan favorite at the pool, it's message would be something that never leaves my mind, and I think that's something only county music can do to its listeners.