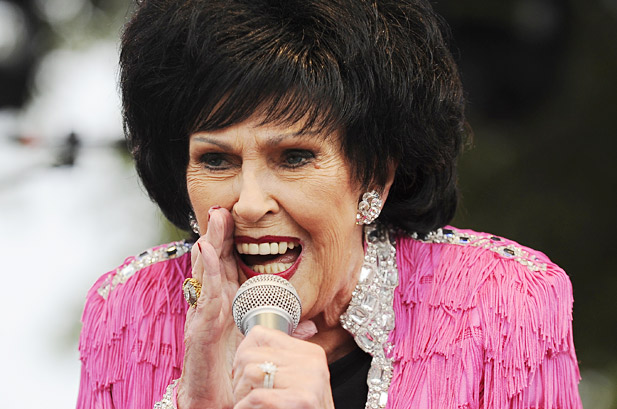 This past August I caught the legendary Wanda Jackson performing at Austin's Continental Club. It was a memorable show, but it left me with mixed feelings about her legacy and popular culture's general lack of interest in female musicians once they reach "a certain age." This is probably why it has taken me well over two months to write about the experience. Conveniently, yesterday was Jackson's birthday. She turned 77.
Known as the "Queen of Rockabilly," Jackson rose to fame in the late 1950s as a kind of female version of Elvis Presley. In fact, she and Elvis toured together and even dated for a time. She gives him credit for convincing her to leave the honky-tonk music she grew up singing in California and Oklahoma for the rockabilly songs that would eventually land her a spot in the Rock and Roll Hall of Fame (she was inducted in 2009).
The most successful rockabilly performers tended to be men (Elvis, Cash, etc.). Jackson did not ever top them in radio play or record sales, but in her songs she found the room to put their masculinist worldview in its place. "I Gotta Know" (1956), for example, pokes fun at Elvis's dancing, with the narrator complaining that "[w]hen you're on that floor you're cool man cool, but when it comes to loving you need to go to school."
Furthermore, in songs like "Fujiyama Mama" (1957) and "Riot in Cell Block #9" (1960), she brings into plain view the topic of female sexuality, which the male rockabillies avoided. In these songs, sexual desire is a dangerous and unsettling force–powerful as an atomic bomb or a prisoners' revolt. In "Riot," she describes female inmates overpowering their guards and cat-calling the male militia members who are sent in to calm them down. The song had been a hit for the Robins–an all-male R&B band–in 1954, but when Jackson performed it,  it became a kind of transgressive, feminist response to Elvis's "Jailhouse Rock" (1957).
In the 1960s, rockabilly began losing its commercial appeal and Jackson moved back into country (and later, gospel) music. In songs like "The Box It Came In" (1966) and "My Big Iron Skillet" (1969), she continued criticizing philandering men, even threatening them with violence. But her bigger hits from this period were more often about heartbreak and standing by your man whether he's right or wrong, which makes it hard to argue that there is any kind of feminist message unifying her many, many records. Colin Escot, in the book accompanying Bear Family's 8-CD collection of her country recordings, chalks this up to Jackson's never having the kind of major hit that would bring her the power to choose the best new songs. In a sense, she made a career making the best she could of the leftovers.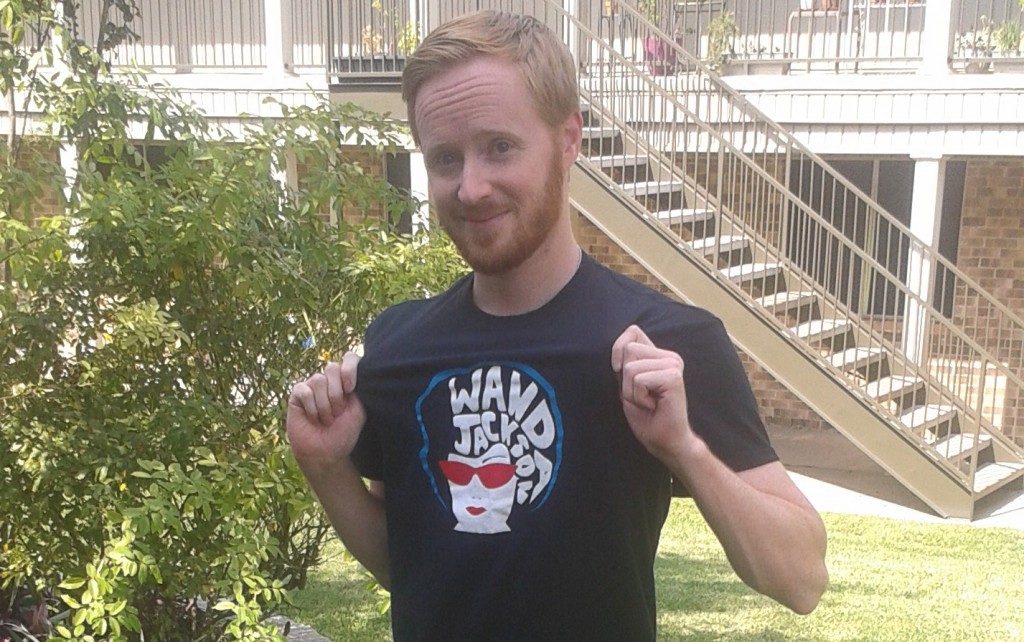 On one hand, the Continental Club is a perfect place for Jackson to perform. Open since 1957, it has hosted some of the United States's greatest musicians, from Tommy Dorsey to Stevie Ray Vaughan. The owner, Steve Wertheimer, has honored Jackson with tribute shows, and she clearly feels at home there. The performance I attended lasted a little over an hour, which was understandable given her age and that there were 2-3 other acts also playing that night. She was surprisingly energetic, shrieking into the mic like a crazed inmate at one point and later yodeling her way through "I Betcha My Heart I Love You."
But on the other hand, I couldn't help but think that after rocking for six decades the Queen of Rockabilly should be playing someplace a little nicer–someplace where the audience has sense enough to shut up when she talks about grabbing sodas on her dates with Elvis Presley. For all its history, the Continental Club is a little shabby around the edges and is exactly the sort of place Jackson must have had in mind when she admitted to Escot that she wished she didn't have to play honky tonks anymore. I would think that Wanda fucking Jackson wouldn't have to play anywhere she didn't want to anymore.