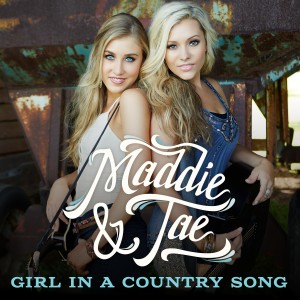 Ever listen to the lyrics of country songs? I mean really listen? I'll be the first to admit that sometimes, I just play music and sing along without even knowing what I'm singing about. It becomes second nature after you hear a song a couple of times; the lyrics are constantly stuck in your head, the beat is catchy, and you can't help but belt out the latest Luke Bryan song at the top of your lungs in the car. But when you really listen to the lyrics, sometimes you catch things that you overlook during a normal, relaxed listen.
To combat this lack of awareness, new duo Maddie and Tae released a song titled "Girl In A Country Song" in July. When I first heard this song on the radio, I couldn't help but laugh and turn it up, because every single lyric was SO TRUE. Here's a sampling of the lyrics:
"Bein' the girl in a country song / How in the world did it go so wrong? / Like all we're good for / Is looking good for you and your friends on the weekend / Nothing more / We used to get a little respect / Now we're lucky if we even get / To climb up in your truck, keep my mouth shut and ride along / And be the girl in a country song"
And that's not even the best part. The song takes so many jabs at the typical lyrics of a male-sung country song, from Luke Bryan's "That's My Kind of Night" to Thomas Rhett's "Get Me Some Of That." These girls take sarcasm, humor, and attitude to a whole new level, but at the same time, they really are trying to draw attention to a huge issue in modern-day country music.
When objectifying women is the norm of a genre and people don't think twice about it when singing along, that's a problem. Most people associate lyrics like that with rap songs, where they constantly talk about women shaking what they've got for the men around them. So when did it become so accepted in country lyrics? The sad part is that I'm completely guilty of the "in one ear, out the other" habit when listening to songs. But this song really made me stop and think about the songs that I listen to, especially this lyric:
"Aww no, Conway and George Strait / Never did it this way / Back in the old days / Aww y'all, we ain't a cliché / That ain't no way/ To treat a lady"
They said it perfectly. What happened to the old George Strait songs when a woman was treasured? The Conway Twitty songs about his "darlin'" rather than the generic label "girl." You know, I honestly couldn't even tell you. All I know is that I genuinely wouldn't want to be the girl in a country song.
Girl In A Country Song – Maddie and Tae (music video)