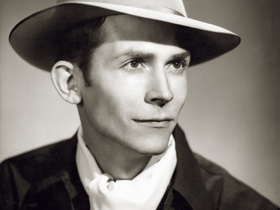 If I were to recommend only one country musician for somebody to listen to, I would have to go with Hank Williams, an artist whose songs originally piqued my interest in country music.  Hank Williams is considered one of the most influential figures in country music history, and was the first artist to be inducted into the Country Music Hall of Fame alongside Jimmy Rodgers and Fred Rose.  Although he died at the young age of 29 in 1953, he left behind timeless songs that keep him relevant to country musicians and fans to this day.
One of the things that I like the most about Hank Williams is that I feel as if I can relate to him as a person.  For anybody who has ever lost a true love, you know that it is an incredibly painful and scarring experience.  Many, if not most, of Hank Williams' songs deal with his experience with heartbreak and loss.  His music has definitely helped me work through some of my own feelings of loss, or at least helped distract me from it.  The first song I heard from Williams, "Alone and Forsaken", is an old favorite of mine.
Another one of my favorite Hank Williams tracks is one of his more uncharacteristically positive songs, "I Saw the Light".  It is an upbeat song that incorporates both folk and gospel elements, something that Williams was often known to do.   It is also refreshing to hear a different side to Williams than the pain-stricken one that we hear in most of his songs.  "Settin' the Woods on Fire" is another song that focuses more on rhythm and rhyming than storytelling and sorrow.
Although Hank Williams didn't live a long life, he certainly seemed old beyond his years.  It would be hard enough to live your entire life with spinal issues, never mind with the amount of personal and romantic trouble he found himself wound up in.  Nevertheless, he still found a way to share his experiences through songwriting.  His song "Lost Highway" paints a vivid picture of Hank's lonely life, and offers advice for any listeners who can still be saved.  Although his songs are relatively simple, the emotion that Hank conveys makes listening to him a personal experience.
I recommend that you at least give Hank Williams a listen.  His songs are not very long, but they convey powerful messages that let you relate to Hank.