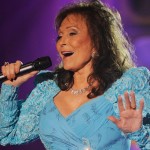 Since I've been researching Loretta Lynn a lot lately, I started thinking about how the only reason I was interested in her was because my Grandma told me that Loretta is her favorite country singer. This made me realize that I really didn't know much about her beforehand, because she is not someone that people of my generation will go out of their way to listen to. As someone who considers herself an avid listener of country music, this was very hard to process. I was starting to wonder if she had just been completely forgotten about, as I had not heard her name in a while.
Imagine my excitement when I received a message from my mother about Loretta Lynn on the CMAs. Kacey Musgraves was performing "You're Looking at Country" for the award show audience, and in the middle of the song stopped and introduced Loretta Lynn as the "Queen of country music." Loretta walked out in a sparkly long dress and finished off the song as a duet with Musgraves.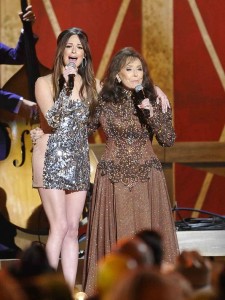 The best part of the performance, in my opinion, is looking at the audience's reaction. The second Lynn came on stage, everyone in the building was on their feet with a round of applause that could bring any performer to tears. The duo finished out the sound, harmonizing perfectly and standing side by side with their arms around each other. The audience was going crazy, and I think this could be attributed to the possibility that seeing Loretta Lynn on stage was very unexpected.
Aside from the research I have been doing on her the past few weeks, I have not really heard her name thrown around much. I feel like people are so focused on who the next up and coming country stars are, that they forget to take a step back and look at some of the most influential performers of the country music history. Loretta Lynn made waves across the country, topping charts year after year; so how could someone so big just fall off the grid? Back in the day, Lynn was all over the country world, and this just shows that she is not ready to be forgotten.
The Queen is has put herself back on the throne, and this can only mean good things for her, especially in the midst of her Coal Miner's Daughter tour, which is continuing next weekend. From everything I've learned about her recently, I know that Loretta is a pretty amazing lady, so I cannot wait to see what she is going to do with the rest of the tour, as she never ceases to amaze and inspire those around her, and this is clearly seen in the adoration that fans showed her last week.
Take a look for yourself: