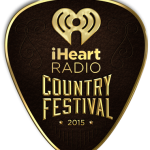 This weekend I was lucky enough to attend the 2nd annual iHeartRadio Country Music Festival here in Austin. To say it was an extraordinary showcase is an understatement. Hosted by Bobby Bones, Jennifer Nettles of Sugarland, and Darius Rucker this festival was a special once in a lifetime event with a stellar all-star lineup. This year it included Justin Moore, Brad Paisley, Rascal Flatts, Tyler Farr, Sam Hunt, The Band Perry, Little Big Town, Brantley Gilbert, Dierks Bentley, Darius Rucker, and the icing on the cake was Tim McGraw. It was only fitting that the newest and hottest artists in country music traveled to the "Live Music Capital of the World" for a concert of a lifetime.
The iHeartRadio Country Music Festival is one of the largest and grandest country music festivals in the country and Austin has been lucky enough to host it for the second year in a row. It is sister concert to the iHeartRadio Music Festival held in Las Vegas and the iHeartRadio Jingle Ball Concert Tour. John Sykes, President of iHeartMedia Entertainment Enterprises, shared with Rolling Stone that "Every single one of these artists can headline an arena or stadium on their own, but on this night they will share the stage to celebrate the amazing music on our iHeartRadio country stations". Clearly, this was not an event to be missed.
What I did not realize was that the concert was actually being filmed to air on NBC May 27th. Given that, walking into the stadium I was not expecting to see huge cameras pointing in every direction or camera crew pacing the floor. This aspect actually made the event more special because I felt like I was a part of something big. Cameras were set all around the arena and throughout the show there were segments of staged cheering and applause conducted by Bobby Bones and Jennifer Nettles themselves. It was pretty cool to see what it was like behind the scenes and how a televised show comes together.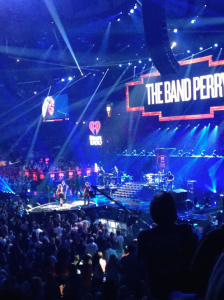 Brad Paisley kick started the show with a bang. I had never seen him in concert before so he was someone I was looking forward to watching. He definitely made it a production and got the crowd going wild. The Band Perry surprised the crowd by singing a cover of party song "Uptown Funk", making the whole audience jump to their feet and dance. The trio sounded like they could've been the original artists of the song, which was remarkable considering they were country artists singing a pop party song.
I have always like Brantley Gilbert, but I did not enjoy his performance as much as all of the others. Before he took the stage, there was a video shown of him and his band looking like they could've been a part of a gang. Glimpses of head to toe bling and tattoos were not the quintessential things I expected to see at a country concert. In my opinion, the video jut didn't fit the "country" mood of the night. Regardless, he was fun to watch and had abundant energy. Little Big Town sang hits like "Day Drinking" and controversial song "Girl Crush" which the audience cheered and supported despite the recent backlash. Overall, they were entertaining with Karen Fairchild standing out with her astounding vocals.
Following them was the great Darius Rucker. His performance was one of my favorites. His audience interaction was spot on and you could just tell how much he was enjoying singing in that moment. Rascal Flatts was also one of my favorite performances, which I wasn't expecting. Despite having lost popularity in recent years, I thought their performance was amazing. From singing new hits like "Rewind" to throwing it back and singing "What Hurts the Most" and "Life Is A Highway", I had so much fun singing along with them.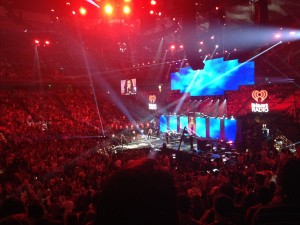 Finally, the one and only Tim McGraw closed the show and was nothing less than flawless. He was definitely the most anticipated artist and that showed when Darius Rucker crowd surfed the audience to introduce him to the stage. After we all sang a loud and proud "Happy Birthday" to him (since it was his birthday), he sung hits "Shotgun Rider" and "Diamond Rings and Old Barstools". He also threw in the oldies, "Something Like That" and a grand finale of "Live Like You Were Dying". Those two songs are some of my favorite Tim McGraw songs so I was over the moon when he played both. He was the perfect closer to an unbelievable concert and made every second worthwhile.
The iHeartRadio Country Music Festival will be back in Austin for a third time next year. This wonderful showcase of beloved artists and songs will not disappoint anyone who loves country music. Grab your tickets while you can because you definitely don't want to miss it! I know I don't!