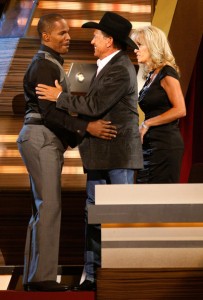 While watching The CBS George Strait special, I saw Jamie Foxx give a Tribute to George Strait by singing his song "you look so good in love". Before Jamie Sang the song he mentioned an experience when he was younger about trying to go see George in the town next over to his hometown. He talked about when he found out that George was coming to his town to preform, that he was going to see him no matter what even if he had to go over the tracks to see him. As Jamie said, unfortunately he wasn't able to see him but no one believed him that George strait had performed there until he met George Strait and he verified his story.
I enjoyed watching the tribute for one because I love that song but also it shows how much George Strait has influenced country music artist but also other Genre Artists like Jamie Foxx who is an R&B artist. It amazes me how a country artist could influence an artist who isn't even in the same Genre. This truly shows how country music has shaped music today and how George will be known as one of the greats for all time.
While Jamie was singing the tribute, I saw some similarities and some differences in how he sung it and how George sings it. In Jamie's version, it has more of a gospel and R&B sound to his voice; whereas with George, it has a deeper tone and a more rustic feel to his voice. The most profound similarity is the way the music flows with lyrics showing that side of Nashville sound and being elegant and smooth in both of their versions of the song.
Although Jamie wasn't the only person who sung a song in tribute to George i think that his was the most profound due to the fact that exemplifies that country music can cross all boundaries even other genres. As I finished watching the rest of special I started to look back to my past to remember things about George Strait and how much his music has affected me and I am not even a country singer so I knew that some of the people like Jamie, Brooks and Dunn, Alan Jackson, Blake Shelton , Miranda Lambert, and Taylor swift who are singers, how much he has affected their lives in a tremendous way by either influencing their music or allowing them to be the opening act in his concert for their first concert. George Strait has and will always be an iconic figure in the music business no matter what genre it is and this tribute below shows how this is true.