This past weekend I had the chance to visit Austin's very own Midnight Rodeo. Not sticking to only traditional country music, Midnight Rodeo would switch up their two stepping to the wobble. While it was predominately country music so that I could practice my two stepping skills, I was able to take a break and get out on the dance floor with my gals and drop it like its hot because boy was it hot in there.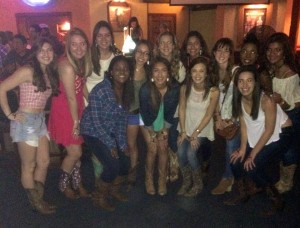 I got the privilege to go with a large group of my gal pals, which supported the old saying "the more the merrier." While as a group we had the most fun at the breaks when songs like "Uptown Funk" came on, individually we enjoyed the country songs better because, honestly, where else can you find that kind of entertainment? Either grabbing a free guy or one of our friends we danced in circles around the dance floor to every country song that played. Being such a social event, country dancing is hard not to enjoy even if you are sitting that song out and just watching.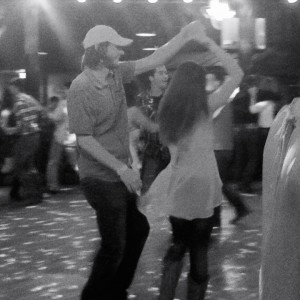 Now please don't think that because we all own a pair of cowboy boots and live in Texas we are automatically great country dancers. My group and the dance floor ranged from first time dancers that had never laid a foot in a dance hall to pros who incorporated flips into their two-step. It truly was amazing to watch the expert dancers who made it look effortless. I fell right in the middle of those two being able to do the steps and a couple simple turns. I think we all enjoyed ourselves just the same no matter the skill level we were at. You could feel the energy and heat coming off of the dance floor from the people that were there to have a good time.
Now I challenge you to go and try it! This tutorial, excuse the woman's outfit, shows you the very simple basics of two stepping. However, I believe getting out there and doing it is the best way to learn! Starting with a slower paced song will help you get your footing and eventually you will be able to keep up with a faster paced beat!
Tim McGraw's "Just to See You Smile" is one of my favorite two stepping songs that you can try out at home with your cat, dog, cow or what ever else you have running around the house. I hope you try out you closest country dance hall and enjoy the experience as much as I did!