Why do people hate country music? I think that is the one thing I absolutely don't understand in life, especially down here in the South. Country music fits all emotions, covers all issues, and relates to all types of people. But why do so many people drink the country music haterade?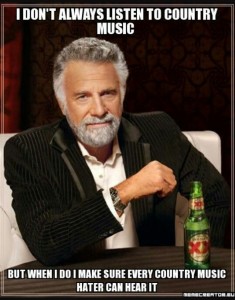 I guess my teen years really helped expand my love for the genre. Teen angst was real, but I always felt better when a country song would come on the radio that I could deeply relate to on an emotional level. It made me feel like I wasn't alone, and that's pretty much the recurring theme when you're 13 and wanting to fit in.
Country music is stronger than ever these days with cross-over artists like Carrie Underwood, Luke Bryan, and Florida Georgia Line. These songs are obviously more pop-sounding to reach the mainstream audiences. But as a true country music fan, I'd rather listen to the 80s and 90s era of country than almost anything I hear on the radio today.
When you're at a party and the night is coming to a close, and some brave soul turns on "Friends in Low Places" by Garth Brooks, what person would refuse to shout obnoxiously to the beginning lines "Blame it all on my roots, I showed up in boots"? It is a complete game changer when you go from dirty rap to good ole' classic country. The night may be dwindling down but my heart is happy when the two-stepping breaks out. Even if you had the worst night, you can't hate on the person that is twirling you across the floor to some good lookin' George Strait.
Country music is the best way to live. There are so many country songs about different issues and events that have happened throughout history. "Where Were You (When the World Stopped Turning)" by Alan Jackson relates to the horrific tragedy of 9/11. There are so many country songs about American pride like "Only in America" by Brooks & Dunn and "American Soldier" by Toby Keith. Country is sensitive and rarely offensive unlike many songs we hear on the radio today.
Any person can find some country song they can relate to. "Brokenheartsville" by Joe Nichols relates to the heartbroken. "Bye Bye" by Jo Dee Messina is a great moving-on anthem. "Wild One" by Faith Hill speaks to all the rebellious teen girls. "Red Ragtop" by Tim McGraw references a couple's life after abortion. Almost any Jason Aldean song can give the guys a sense of nostalgia of younger years. Give me a situation; I'll find a country song for it.
In my opinion, everyone should love country music because I don't see any reason to hate it. Country music truly brings me back down to Earth. It calms me down, it hypes me up, it makes me cry, and Brad Paisley can make me laugh on any given day. Maybe I'm just okay with feeling emotions, but everyone feels them at one point or another; who wouldn't want a country song there for comfort? I may never understand the country music haters, but I'll defend the genre until I die.