It was the spring of 2015, and I along with thousands of other sophomores-to-be were logged on to our computers for that fateful day that was registration. In the seconds leading up to my assigned registration period I was clicking refresh over and over so as to have a fighting chance to secure myself a spot in the best classes for fall of 2015. It ended up being my worst registration period to date. I was waitlisted in half of my classes and the other half were with teachers I didn't want. However, I did have one successful endeavor: I got into Rhetoric of Country Music. I have always been a country fan, but this class pushed me to explore the genre even more. Here are just a few fun activities I was able to do this semester, all inspired by my rhetoric class!
1. Free Brad Paisley Concert!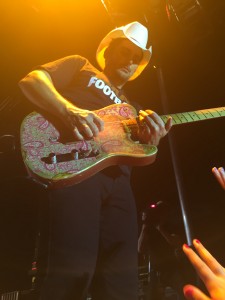 What's better than kicking of the school year with a country concert? Kicking it off with a free country concert. And what's better than a free country concert? A free Brad Paisley concert! I have always been a big Brad Paisley fan, so going to a school that can bring him to perform just across the street from campus is amazing. Attending that event certainly started the year off right, got me excited for my new rhetoric class, and reminded me just how much fun country music can be! (Check out my second blog post for more fun details and pictures from the event).
2. Watching the Country Music Association's 49th Annual Awards Show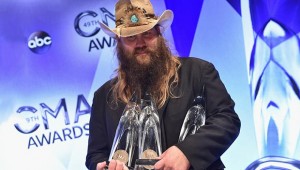 The 49th CMA Awards was certainly an event for the history books! This year the Academy decided that they were going to try out a new strategy to attract fans by scheduling several unique duo performances. These included Justin Timberlake with country newcomer Chris Stapleton, Fall Out Boy with Thomas Rhett, and Hank Williams Jr. with Eric Church. My favorite duo of the night though was Brooks and Dunn with Reba; the combination of these two classic artists was unparalleled. The biggest surprise of the night, however, was the success of the underdog Chris Stapleton. I'm sure half of the country world, like myself, had no idea who he was before that night, but they certainly knew him afterward. He managed to win Album of the Year, along with BOTH New Artist of the Year and Male Vocalist of the Year, something I would have thought nearly impossible before this year. There is no doubt that Stapleton produced shock and awe all over the country that night, and I'm glad he did because he is now one of my favorite artists across all genres!
3. Visiting the Willie Nelson Statue
After watching the CMA's and seeing so many new artists gaining success in the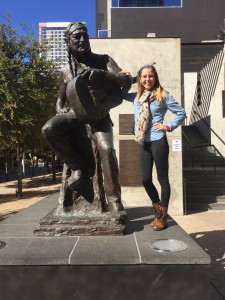 country music industry, I decided that it was high time I learned about some of the classic country artists that made the genre what it is today. So, like any good starving college student, I mooched a ride off of one of my friends with a car and headed on down to the Moody Theater to visit the great Willie Nelson's likeness cast in bronze. A native Texan, Nelson has had a huge impact on the state and the country as a successful outlaw county singer. It is said that his performance in 1972 at the Armadillo World Headquarters was the beginning of the famous Austin music scene as we know it, which is why it is only fitting that he be given a statue at ACL Live at the corner of Lavaca and 2nd street, which was renamed Willie Nelson Blvd. in his honor. Now, as future generations walk through the doors of that infamous theater, they will be reminded of where it all started.
---
I had an absolute blast exploring country music this semester throughout Austin and beyond, and the lesson that stuck with me the most is that country music is ever evolving. From the early hillbilly sound to today's bro country and everywhere in between, country artists have remained creative and inspired over the past century, and I can't wait to find out where they will take us next!