I have grown up in a house that absolutely does not believe in country music. My dad always said, "I would like country music, but I don't drive a pick up truck or sleep with my sister." A little extreme if you ask me, but his perspective has kept my knowledge of country music and history in the dark. I have learned more about prominent country artists and the evolution of country music in the past 15 weeks than I have in the past 15 years.
The rhetoric of country music class made me more eager to discover what exactly I had been missing out on. One thing that really sparked my interest was learning about the outlaws. These artists were the transcendentalists within country music, and I admired their talent, dedication, and passion towards making brilliant music despite what others thought. So I was beyond thrilled when I found out Willie Nelson was playing in Fort Worth over Thanksgiving break.
Willie Nelson Concert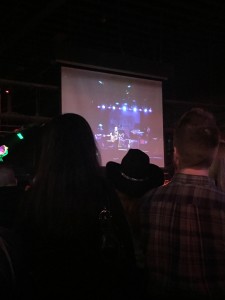 This man is a legend, and I got to see him live! The turnout at Billy Bobs was unbelievable. It was amazing to see generations of people there. There were kids my age, their parents, their parents' parents, and quite possibly their parents' parents' parents. Everybody was singing along, dancing, and screaming "Willie Nelson!!!" as he sung some of his famous hits like, "On the Road Again", "Always on My Mind", and "Mammas, Don't Let Your Babies Grow Up To Be Cowboys".
Although our seats were pretty much right next to the entrance, I was analyzing him from the big screen. He is a magnificent performer and took a maximum of two breaths between every song. He sang non-stop for 90 minutes while flawlessly playing the guitar and throwing multiple bandanas to those lucky fans in the front row. His voice was a balance of smooth and nasally with a smoky age to it, while his music offered flavors of bluegrass, Nashville, and folk.
Willie Nelson Statue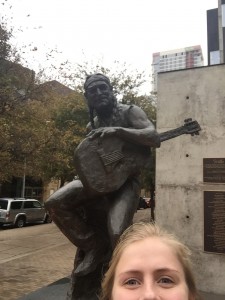 His concert led me all the way to his statue in Austin. I was hungry for more information on Willie Nelson and his impact. The singer's acclaimed musical talent is what prompted the creation of the statue in the first place. The bronze statue was "inadvertently" unveiled on 4/20, which further denoted the stoner reputation Nelson has. His thriving musical career as an outlaw in the country music industry has permanently, pun intended, made him a legendary icon.
Dixie Chicks' Documentary
After discussing the outlaws of country music in class, I thought about the Dixie Chicks and wondered if they belong under this category after their scandal. I decided to revisit the band's political mishap and watch their documentary, "Shut Up and Sing". The main singer, Natalie Maines, decided to disclose a small comment during one of their shows, "…we're ashamed that the President of the United States is from Texas". This left their career severely wounded and caused families, fans, and American citizens to trash their various Dixie Chicks CDs. Although The Dixie Chicks voiced their honest opinion, they disrespected a large quantity of people in the US and were reprimanded by and removed from multiple radio stations. This same mindset of 'doing what you want and not caring what others think' can be found in many prevalent country artists in the '70s that are viewed as outlaws. However, such artists, like Waylon Jennings and Willie Nelson, were fighting against Nashville, while the Dixie Chicks were fighting against a bigger and more political problem. Still, such rebelliousness, even though not in the same boat as Jennings and Nelson, can somewhat be considered outlaw.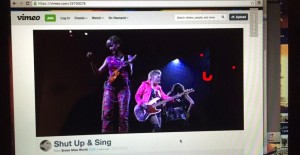 Since the beginning of the 2015 fall semester, I have done a complete 180 and learned so much about the most popular and historic music genre in Texas. I am so grateful to have been given the opportunity to take this class and the chance to understand country music in a new light. Watching documentaries about famous country artists, attending a concert of a legendary country icon, and seeing 2000 pound statue of a country singer in the center of downtown, Austin, all help process the impact country music has had on Texas and the people who live in it. I am truly excited to continue my learning and apply what I know to future events.