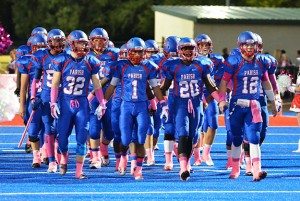 In high school, I was an athletic trainer for the football team. My high school focused heavily on sports, and, therefore, we had a large and hard-working football team. There were ten trainers and seventy-five players, and I could name each of them. To say that we spent a lot of time together would be an understatement. From two-a-days starting at 5:30 am in the summer to classes together to after school practices, we were together all the time.
While I have always loved for country music, standing on a football field in the 102 degree Texas summer heat gives you a whole new appreciation for it—especially when listening to Luke Bryan's "Rain is a Good Thing." For the team and the trainers, country music was a way to endure the day before daylight.
While we loved to play our country tunes there were definitely times that something else was playing. I can definitely testify that as a trainer I never once heard anything besides rap playing in the weight room. Coach Clements was never really a fan of country music. Our head trainer was extremely religious and therefore did not enjoy the explicit language of rap, and the students did not like the religious music he would play if one of us did not put in our ipod, so country music was our compromise.
While the music playing in the background of practice and in the training room seems like such a small entity, it had a huge influence on everyone. If a good song was playing, everyone would sing along. When an amazing country concert came to town, we would all get tickets and go together. For me country music had a big part of my involvement in the community. My friends and I love for country music and involvement in the athletic training group is what started and ultimately led to us becoming friends.
Without country music as a part of my high school's football community, there is decent chance I would not have started a conversation with Kenzie, Anna, and Shea about Kenny Chesney on the first day of practice. If some of the football players hadn't gone to the Jason Aldean concert, then I may not have gone to their graduation or hung out with them on the weekends that we did not have practice. Weather it be on the field or in the training room, football and country music are a match made in heaven.
"When I feel that chill, smell that fresh cut grass
I'm back in my helmet, cleats, and shoulder pads
Standin' in the huddle listenin' to the call
Fans goin' crazy for the boys of fall"

-Kenny Chesney