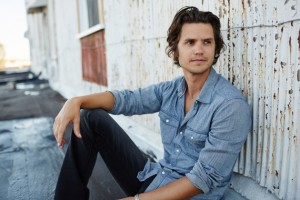 In December of 2015, Huffington Post published an article by Brittany Hodak titled "Top 20 Country Artists to Watch in 2016." I'll admit, although I am a lover of all things music, I don't typically look into up-and-coming country artists. But, much to my surprise, I came across an artist I have been familiar with for a few years: Steve Moakler. I didn't think that Steve qualified as Country, but since listening to his new stuff have come to realize that Country is definitely the mold into which he is casting himself. How did he get to #3 on Hodak's list? Let me unpack it for ya.
Steve Moakler was born in Pittsburg, Pennsylvania. Interesting, huh? Yankee-boy turned Country. In 2006, he picked up and moved to the Promised Land—Nashville, Tennessee—to pursue opportunity. And, just like thousands of others of his kind, he didn't strike gold right away. Sweet Steve worked odd jobs while writing music in order to make his dream a reality. His expectations, like most Nashville-bound artists, were high and left him disappointed countless times.
When he had time, he played show after show to get his name out to a building fan-base and awaiting record-labels. "Thousands of songs later," (according to his website) Steve released his first album by way of a Kickstarter funding campaign, under Free the Birds Records.
He's come a long way. Steve has 115,000 monthly listeners on Spotify and his most recent album, Suitcase, produced by Creative Nation Records, has yet to release more than the single, "Suitcase," which has already shot to number 187 on the iTunes Country charts. His record Watching Time Run rose to #1 on the Singer/Songwriter chart and was in the top 50 in overall charts. In addition, Steve's music has been sung by notable artists such as Dierks Bentley, Jake Owen, Ben Rector, Matt Wertz, and Kellie Pickler, among others. Pretty impressive for a dude who produced his first album from a freaking KICKSTARTER CAMPAIGN. It just goes to show how powerful his hipster-country fan-base truly is and makes me believe in the future of good music.
Not only is he a talented singer/songwriter, but he's hilarious. Steve showcases his dry sense of humor on his Twitter and in his adorable friendship with Ben Rector. He's also ridiculously photogenic—just check out his Instagram (@stevemoakler).
So what makes him different than any other charming, angelic-voiced country-singer? I would say what brought him to #3 on Hodak's list of country artists to watch in 2016 is initiative. He completely financed his first album with funds from a donation website. Who are we to limit this guy?! I think Hodak sees his potential because of his willingness to make moves and humility to let other artists sing his music. Keep on doin' you, Steve. It's working.
Still not convinced? Watch this.