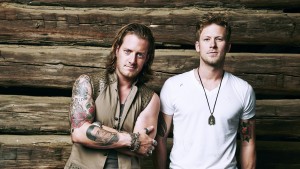 Florida Georgia Line is a duo that formed out of Nashville in 2010 that has brought an interesting twist to Country music since their start. Brian Kelley and Tyler Hubbard met at Belmont University in a worship group on campus and there dreamt up the idea of becoming a famous country duo. And not to my surprise, who else but the Nickelback producer, Joey Moi, was the one who discovered them. This seems only fitting because the two bands in my opinion are very similar. How would I describe Nickelback Fans? There are two kinds. One group of fans is full of fervent followers who listen to Nickelback and Nickelback only, go to every concert, and proudly proclaim them as their favorite band. The other group of fans is full of followers who only secretly listen to Nickelback songs in fear of being shamed by the rest of society. These two groups of fans are the same for Florida Georgia Line followers. Because many people hate on the band, if you love them, you either shout it from the mountaintops or you secretly know every lyric while denying ever having heard of them.
Florida Georgia Line has three albums comprised of very catchy songs, I'll admit, but they are in no sense of the word Country. On their website they even admit to being different claiming to be, "artists who defy trends to pave something new, something original, something maybe a little shocking at the time." I would say their style is definitely shocking… Do you think King George would listen to their new album, Anything Goes, on his way to the rodeo? I don't think so. In my opinion, they are just another pop band that happens to have a little twang in their voice. Since forming in 2010, Florida Georgia Line has brought something totally new to the Country Genre. In the past 5 years they have had five number 1 singles on Country radio charts, which makes me wonder who is actually listening to these stations. But let's talk about one specific hit single that has brought much controversy to Country Music listeners…
Cruise (Remix). Bum bum bummm. Now let me ask you something, when is it ever okay to pair a Hip Hop rapper, Nelly, with a small town duo who claims to be Country? The two just don't go hand in hand. The country rap single has been detrimental to classic Country Music because now other artists like Thomas Rhett with I Feel Good (ft Lunchmoney Lewis) and Blake Shelton with Boys 'Round Here (ft Pistol Annies & Friends) think it's okay to mix the two genres. Music is split into genres for a reason and it should stay that way. Florida Georgia Line and the other artists I mentioned have the potential to really do well because each one is very talented, but please for the love of Country Music, steer clear of these poppy lyrics and featured rappers.