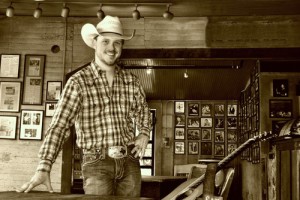 "I don't want to be labeled as 'Texas' or 'Nashville.' I am me: Texas, outlaw, cowboy, country, and a God-fearing man using the gift He gave me." That is how Cody Johnson, better known by fans as "CoJo," describes himself as an artist and that is exactly why I think he one of the most unique artists out there today. He is a hard-working man from east Texas that is living out his dream to be a country artist. His music is downright full of talent and so relatable that he makes you feel like you're living out each song. I became hooked on his music when I first heard "Texas Kind of Way," but his latest album absolutely did not disappoint and got me hooked for good.
What I think is so unique about Cody's music is its unique mix of Country and Rock, which resembled Garth's enthusiasm and Chris LeDoux's style to some extent. His music is honest, heartfelt, and meaningful, and he sings about parts of his life that contribute to where he is today. Growing up in East Texas, he was a country boy that liked to hunt and fish, and family was very important to him. His "ag science" teacher is actually responsible for convincing him for form a band, and he realized he was in love with the music and everything about performing at a talent competition. He starting singing in small bars and dance-halls and began selling CD's out of the back of his truck during three years of bull-riding. He is a true cowboy, born and raised, and his dedication to his dream makes me respect him as both an individual and an artist.
Cody is a pro at packing dance-halls to max capacity, and even better at holding smaller acoustic shows. I have seem him perform on three separate occasions, and each of those I had the absolute best time singing his songs at the top of my lungs. His music is exactly what I think of when discussing what "real" country music is. He gives each show his absolute best effort, whether it's a crowd of thousands or a just a few. He genuinely loves the music and that is extremely evident after going to a few of his shows.
After releasing his latest album, Cowboy Like Me, Cody had me so obsessed that I marked my calendar 6 months in advance for his concert at Midnight Rodeo in Austin. Up until the day of the concert I learned every song on the album backwards and forwards, and I have listened to each song so many times its as if he should know me based on number of Spotify plays! There's no other way to explain how big of a fan I am other than to mention that I somehow ended up with his concert setlist that was taped to the stage in front of him (of course I had it signed)!!!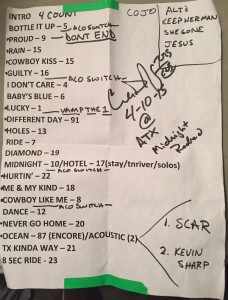 His album is jam packed with upbeat, two-stepping songs that make me come out of my seat every time. "Dance Her Home" is the first track on the album, and its about a cowgirl walking into a bar and him hoping she'll "give him have a chance at romance" so he can dance her home. "Me and My Kind" is a catchy tune about how his ex-girl just cannot deal with cowboys like him anymore. "Baby's Blue" is a heartfelt love song about how his baby needs him by her side when he's at work late, but he is more than willing to walk away for her. "Cowboy Like Me" is a unique story that touches every heart, pouring out honestly about how "every time I go home, I think I'll find her gone, but she's still there and still wants to be, in the arms of a cowboy like me." Finally, "Give a Cowboy a Kiss" is a song with a story line that resembles "if you give a moose a muffin," talking about what happens after you give a cowboy a kiss. Hot dang, would I love to give that cowboy a kiss!!