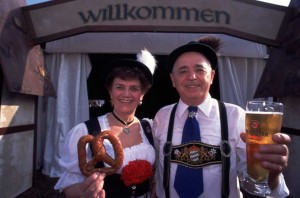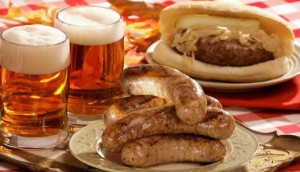 In the middle of November a couple of years ago, four of my friends and I were feeling claustrophobic in Austin after midterms, so we decided to go on a day trip to New Braunfels for a German festival called "Wurstfest". When we pulled into town, tacky lederhosen and fake German façades were everywhere, but they couldn't mask the smell of sausage and beer. As we walked towards the food stands, several people who were leaving started giving us all of their coupons. It turned out that this was the last day of the festival. After exchanging these tickets at the food stands, we found our arms filled with free pitchers of Miller Lite and skewered knackwurst sausage. As we made our way into the beer hall to feast on our bounty, an elderly German band played the Gene Autry dancehall classic, "South of the Border."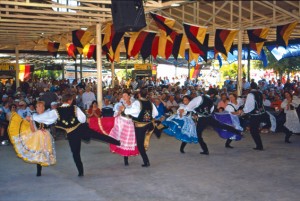 Right as we sat down, however, smoke began to fill the enormous hall from a nearby sausage stand. It turned out that there was a minor fire on the cooker, which was quickly extinguished. While this ended up not being a threat to anyone's safety, the beer hall was deserted in the frenzy. After a few mi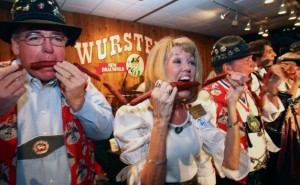 nutes, one of my more astute friends noted that there was plenty of beer left abandoned on the tables and nobody seemed to be returning. This good fortune added onto our previous stroke of luck left us as very rich men in this fake German village. As our stomachs filled, the band (who were apparently unfazed or maybe even uninformed about the fire) closed their set and the crowd thinned out outside of the beer hall. We realized that it was time to go.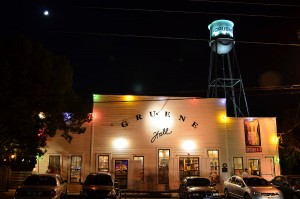 As we were about to leave town, we decided to stop by Gruene Hall because one of our friends had never been. We parked down the block and walked up to the front door, but the bouncer told us that it was a sold out show and that we couldn't get in. Being the thrifty college opportunists we were, we decided to walk around back to see if there was another entrance. We saw a light from the side of the building and approached it. It was an open door, and through it, stood Willie Nelson, about twenty feet away from us playing his hit, "Crazy" with his full band, and with "Trigger", his infamous guitar, in his arms.
We were dumbfounded.
None of us ever thought we'd be able to see the Red Headed Stranger play a legendary venue like Gruene Hall. As the song went on, a cop approached us and told us that we could stay for a few more songs before he got in trouble. He also informed us that if Willie invited him to smoke in his tour bus, he wouldn't feel professionally obligated to say no.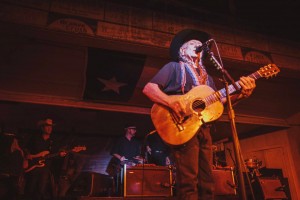 As we got back in the car to go home after the show, I realized that I'd been able to cross off a long-time item on my bucket list, on accident. It was always a dream of mine to see Willie play at Gruene Hall but it was always too expensive for my friends and I or sold out too quickly. While we couldn't buy tickets to actually go into the dance hall, I'm still grateful for that cop letting us watch the show from the musicians' entrance, also known as "Willie's door."