Before taking this class, I admittedly didn't know that Florida Georgia Line was so horrible. I went to their concert this past summer and actually thought they were good, but after seeing them again at the Houston Rodeo a few weeks ago, I know I was wrong. I was on my way out of town with some friends and we stopped in Houston for the night, and went to the rodeo sort of spur of the moment. We ate corn and funnel cakes, and headed inside to see the show. Florida Georgia Line came out on stage, and immediately I knew something wasn't right. They were wearing camo tank tops, Tyler Hubbard had his hair straightened, and there were pink lights and flames everywhere. The slideshow on the screens was made up of mostly license plates with the lyrics spelled out across them, and I could hardly watch. They even started the show out by playing "Started From The Bottom" before their first song!! To all of you who I silently disagreed with when you said they were no good, I take it back!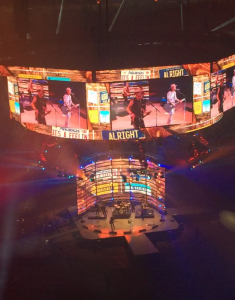 On a happier note, I went to Threadgill's on Riverside with my dad while he was in town. The second we walked in my dad said, "Can't you just feel it? People like Ronnie Milsap used to sit at these tables". From the other customers to the people who were waiting on us, we really could feel the history of the place. My dad ordered chicken fried steak because he "felt like he had to", and we shared a few appetizers like the fried green tomatoes. If you're looking for a place to bring someone from out of town and want to show them what Austin is really like, Threadgill's is the place to go!
When my dad visited earlier in the semester (he went here for undergrad and is having some serious trouble letting go of the glory days), we went two stepping with my sorority at Wild West. Two stepping was a skill I didn't know I had until I started going to tailgates my freshman year. My parents love to dance and I've grown up dancing with my dad around the house and at neighborhood parties, but I had no idea I'd been two stepping all my life, and I really didn't know I knew how to pretzel! We couldn't keep up with most of the line dancing, but we held our own spinning around the dance floor between all of the other fathers, daughters, and Wild West regulars.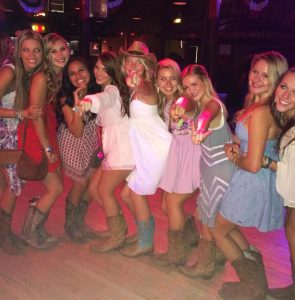 My view of country music has changed more than I ever thought it would after taking this course. I have learned so much about not only the music itself, but the people behind real country music and how to really appreciate the genre as something that truly is a part of how so many people grew up, and has shaped the lives of so many people. Going two stepping and seeing live music at Threadgill's, along with the rodeo further proving what true country is, has helped me learn to appreciate music that is written from the heart and written about true experiences rather than being written to get a radio hit or collaborating with an R&B artist to land some listeners from other genres–for the record, I at least knew that song by Usher and Florida Georgia Line was bad from the start. Thanks to this class, I promise I'll know the difference between real and pop country from here on out!