This has been my favorite course this semester by far. Because country music is such a passion of mine, I tend to have many country experiences. After this course, my view of these experiences has changed because I have gained more knowledge about the impactful artists, legendary songs, and history of country music that have shaped my views of the industry.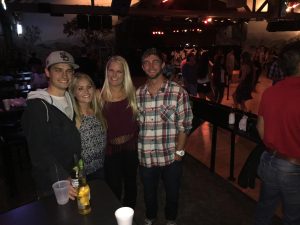 My first country music experience was going two-stepping and line dancing at The Temecula Stampede in my hometown of Temecula, California. I went home mid semester to celebrate my 21st birthday with friends and family in Temecula before heading to Vegas. This of course meant I HAD to go to the Stampede. Once I turned 18, I became a regular at the Stampede and over the past three years I have formed some of the best friendships from line dancing there. When I went this past time, I evaluated my experience deeper because of this course. I was conducting my Buzzfeed article about line dancing at the time so it gave me the perfect experience to reflect on. With the mechanical bull, people in cow boy hats, and of course the wooden dance floor, The Temecula Stampede provides the perfect setting for a great night of line dancing and two stepping.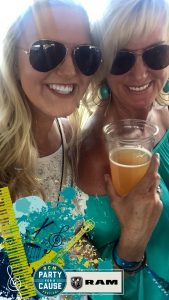 After a Thursday night at the Stampede my friends and I left for Vegas to continue the celebration. We timed our Vegas stay perfectly to align with the ACM Party for a Cause Country Music Festival. I attended the festival Sunday with my mom and some family friends. We arrived just in time to see Chase Rice, Sam Hunt, Kip Moore, and Kenny Chesney. I was lucky enough to be standing in the crowd when Kenny Chesney casually walked by me in his white cut off shirt and cowboy hat. Going to this concert reminded me how passionate I am about country music. It actually shaped my future as well. We met a man that was working for AEG Live, the entertainment company that puts on the ACM awards and many other country music festivals, and after talking with us for a while he realized the amount of knowledge and passion I had for country music, which led him to offer me an internship with the company this summer! Working for AEG is a dream of mine and just by attending the ACM Party for a Cause Festival this dream is within my reach. I am so excited to be able to use my knowledge of country music and public relations this summer as an intern for AEG Live!
Lastly, another experience I had with country music was watching the movie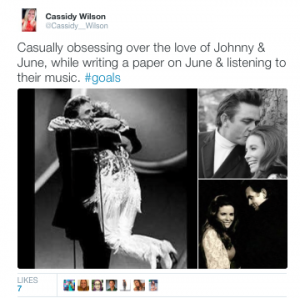 "Walk the Line." I have always heard about the love between Johnny and June but watching this movie gave me a new perspective. Reese Witherspoon is one of my favorite actresses, so seeing her portray June Carter was very commendable. The movie did a great job showing the story between Johnny Cash and June Carter's relationship while also presenting both of their success in country music. I even got one of my roommates, who is not a country music fan, to watch the movie with me and she loved it!
As previously mentioned, I loved taking this course this semester. It makes me sad that students will not be able to take this course and have these great experiences like I did. As a transfer student from California, I came to Texas with a very different perspective on country music. I have to thank Dusty as well as the other students in this class for helping me gain a new perspective on country music. I will forever love Luke Bryan but this class has helped me to learn to appreciate artists such as Merle Haggard, Dolly Parton, June Carter and Randy Travis that have shaped country music into what it is today.