Wow! I can't believe the year is finally coming to an end. I can still remember walking into class feeling nervous because I had no knowledge about country music or what it meant. Thankfully, the class turned out to be a great experience and I've learned more about country music this semester than I ever thought I would in my lifetime.
The Movie Cars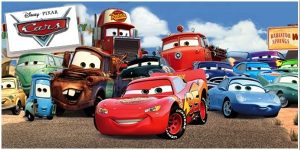 After scanning the list of movies, I decided to watch something familiar. Earlier in the semester, I wrote a song analysis on "Life is a Highway", which was featured in this movie. On a Saturday night, I decided to grab one of my teammates, Tripp, to watch the movie with me. Tripp was reluctant at first, but I eventually persuaded him into watching it with me and he turned out to be pleasantly surprised. I can vividly remember us cheering for Lightning McQueen and singing along to the soundtrack (trying to sing at least). Although I've seen Cars numerous times, it never gets old. I enjoy everything from the plot to the songs, especially "Life is a Highway". However, watching Cars this time around had a greater meaning as I had a new appreciation for country music and the movie.
Reading the Texas Music Magazine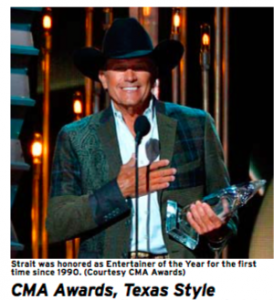 A couple of days ago, I had no clue the Texas Music Magazine existed so I decided to give it a try. To my surprise, it had a bunch of interesting articles to pick and choose from. After scrolling through different "E-Zines", I came across an article on the CMA Awards. Among a star-studded field, George Strait was honored as Entertainer of the Year, and Miranda Lambert took home another Female Vocalist of the Year trophy. In both of their interviews, Strait and Lambert seemed to be very down to earth. Although both artists have won numerous CMA Awards, Strait and Lambert always praise other nominees for their hard work and success. This not only proves that Strait and Lambert are amazing singers, but also humble and great people to be around. At the end of the night, Strait teamed up with Alan Jackson to pay tribute to the late George Jones by duetting on Jones' classic, "He Stopped Loving Her Today." What a night it must have been!
Threadgill's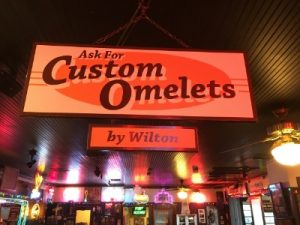 After reading all the posts about Threadgill's, I decided to give it a shot. I'm not really familiar with southern-style cooking but I figured I'd like it since I love food in general. A bunch of friends and I decided to try this place out after practice one day and we were amazed by how delicious it tasted. I ordered the chicken fried chicken breast with extra gravy and a side of mashed potatoes and green beans. Usually, we're pretty hungry after practice so I told the waitress we'd definitely have some dessert at the end… the carrot cake looked amazing so I thought I'd try it out. However, the portions were a little bigger than I expected and I held my head down in shame as our waitress applauded our valiant attempt to bite off more than we could chew. Overall, I definitely recommend this place to anyone looking for a place with great food and music!
This class has been one to remember. I came in with no expectations whatsoever but came out with a better understanding about country music and its attributes. Despite not knowing anything about country music, the class provided me with a deeper perspective of what country music is all about. It's not always about how good a song performs on a chart, it's about the story behind every song. Thanks for making this semester more manageable!