This weekend I was able to go home to San Angelo with some friends and visit for a couple days, which is always refreshing and serves as a way to get away from school for a little bit. It was the last weekend of the San Angelo Stock Show and Rodeo, and we didn't want to miss out on all the fun.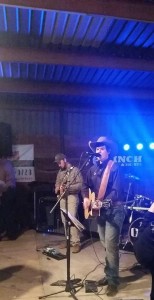 Unfortunately, since tickets sell out several weeks in advance, I wasn't able to attend the actual rodeo performance. As disappointing as that was, at least I was still able to take part in something rodeo-related. One of my best friends, Case Hardin, started a country music band after we graduated high school, and since then he has made a name for himself, playing shows at dance halls all over the state. The past two years he has played shows during rodeo season in what is collectively known as "the beer barn". Located directly next to the coliseum where the rodeo is held, the beer barn is where people go to, well, drink beer before and after the rodeo. It's a non-insulated wooden building, includes a stage and a dance floor, and it has no seats or tables. Instead, everyone packs in as tightly as possible and those remaining gather outside.
While it may sound like an unpleasant place, what makes it awesome is the music. What is usually a run-of-the-mill shack basically in the middle of nowhere comes to life as an authentic dance hall. Case played for three hours to an audience of hundreds of rodeo-goers, and the dance floor was filled during every song. Case, a bona fide fan of traditional/neotraditional country music, performed covers of singers like George Strait, Tracy Byrd, and Conway Twitty, and he mixed in some western swing with songs from Bob Wills. Backed by his band, which simply includes a guitar, bass guitar, steel guitar, and drums, Case keeps the spirit of traditional country music alive with his twang and his salutes to legends past. I knew when I saw him sing George Strait's "Heartland" in the 4th grade talent show that Case was destined to be a country music performer. Case's next show is March 14th at the London Dance Hall in London, Texas, which is considered to be the oldest dance hall in Texas. It's awesome to see one of my good friends experience some success, and it was great to be able to catch one of his shows.