Country music has always been my main go-to music. Whether I am sad or happy, no matter the time of day, country music is always acceptable. I have gone to plenty of country music concerts from Lady A. to George Strait. As a country music fan, I look forward to the country awards shows, like the ACM's and CMA's. Something about hearing the new hits live, witnessing the new artists perform and hoping my favorite artist wins is a thrill in itself. In March 2013, I was privileged with my first live award show experience at the ACM's, or Academy of Country Music Awards.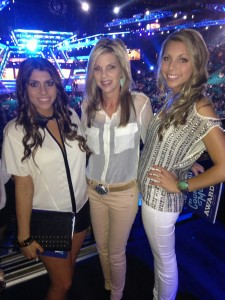 We took a girls trip to Vegas for my sister's 21st birthday. Amidst the fun, quick- paced atmosphere of Vegas, we spent our last night attending the ACM awards. It was one of the most exciting experiences of my life. Seeing my favorite performers in one sitting and being in the same room with the top country artists was an adrenaline rush.
Along with getting to see all of my favorite performers, two of my favorite artists were the host of the award show, Blake Shelton and Luke Bryan. These two together are like stand up comedy. They crack jokes, make fun of one another, and even call out the other famous stars in the crowd.
The year we attended, George Strait was ending his "Cowboy Rides Away" tour. He only had a few scheduled, live performances left, and we were able to enjoy one of them. Being long-time fans of George Strait, it was a sentimental experience for my family.
Like most other award shows, there is always the "biggest award" at the end of the show. Along with being a host that year, Luke Bryan won 'Artist Of The Year.' It was rewarding to see him accept that award in person and genuinely thank the fans for being country music fans.
To top off the amazing experience we had being a part of the crowd, we unexpectedly ran into one of my all time favorite country artists, Clay Walker! It was a very cool experience to meet and talk with him. He kindly took a picture with us so we could have such a memorable experience documented. When I was little, my dad would play Clay Walker's music every day on the way to elementary school. To me, he is one of the few country legends.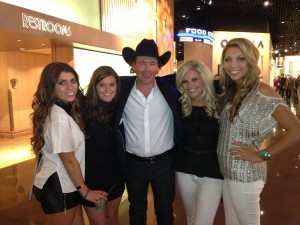 We had an unforgettable experience at the ACM awards. Unforgettable enough that we decided to go back this past March. Blake Shelton and Luke Bryan hosted for the second year in a row, and the show was even better the second time around!