Everyone who tuned into the Country Music Awards last Wednesday night was the first to learn what the sex of Carrie Underwood's baby is. Brad Paisley and Carrie Underwood kept the crowd rumbling with laughter as they hosted their 7th straight CMA awards.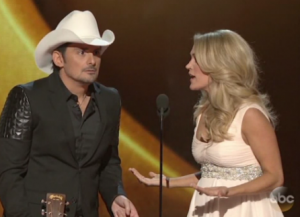 The roast-like jokes started as they came out on the stage to introduce the show. They started with a song they wrote in honor of George Strait and his "Cowboy Rides Away" tour. They then presumed to make fun of Strait when Paisley said, "usually when a cowboy rides away, he goes somewhere." Then after a couple different jokes made towards Blake Shelton, Taylor Swift and democrats it was time set the stage for the baby sex reveal. The picture shown was Underwood's immediate reaction after #bradblewit.
Brad started by making the comment "We're pregnant!" (Which by the way, OMG she is a beautiful pregnant lady!) Then from there Underwood starts making comments asking why he said "we". And from there Paisley is persistent that he will always be a part of the baby's life and Underwood can't keep the baby from him! From there he starts to beg Underwood to tell him what the sex of the baby is and finally she lets in and whispers in his ear what it is. He turns to the audience then and says "I'm so happy, I know something ya'll don't know; Suck it TMZ!"
Then a couple minutes later as they're starting to introduce Garth Brooks's return to the CMA stage, Paisley lets the cat out of the bag (or better yet, the bun out of the oven). Carrie starts by asking, "Do you think he'll sign my baby?" And then Paisley replies by announcing,
"Hey, we could name him Garth!"
In which then Underwood acts like she's angry at Paisley for the public revelation but it's all apart of the show. The crowd then realizes what just happened and they all start cheering and smiling in happiness for Underwood's joy.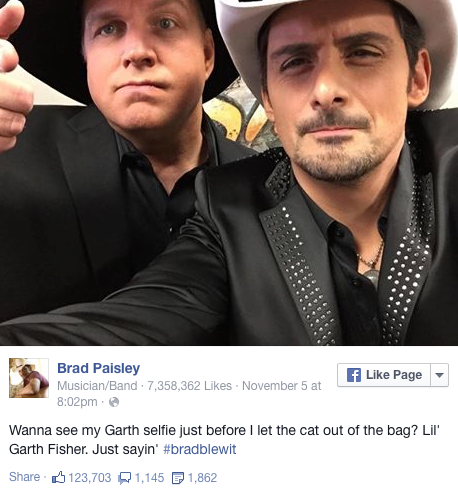 Paisley's Tweet after he revealed the sex
Let me be the first to say, it's been a beautiful thing to watch Carrie Underwood's whole celebrity life play out in front of our eyes. We fell in love with her on American Idol and we've followed her journey ever since and I believe I speak for the majority when I say we are overjoyed to see her finally play the role as a mother. Congrats to Mr. and Mrs. Fisher!!