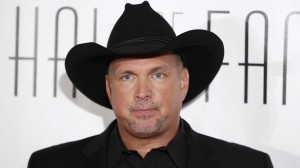 From a young age I listened to Garth Brooks around the house. My mother is a huge fan of Garth Brooks. My mother was actually in the Primetime documentary about Garth Brooks in the front of the crowd at one of his concerts in July of 1992 in what used to be called the Coors Amphitheater in Southern California. She was at the concert with a big group of friends and just happened to be filmed. This is her claim to fame and I will never forget this story.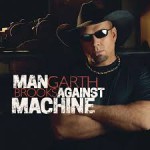 This is why I took great joy in informing my mother that after 13 years of retirement Garth Brooks is making a comeback with his new album called Man Against Machine under the label RCA Nashville. This album will be quite different than most of the music circulating around other male Country Music singers. Brooks looks past partying and rural life to music that better speaks to the common man. In his album Brooks is representing the middle class that works day in and day out without time for excessive partying and celebration. I am very interested in seeing how listeners will react to this divergent theme. This album shows influence from Jason Aldean and Eric Church with its heavy guitars and dark-hued themes. He doesn't include auto-tuned vocals, rhythm loops or rapping unlike most modern male country stars. His tracks are weighty and wordy, just like his previous albums "Scarecrow" and "In the Life of Chris Gaines" left off.
Due to this type of construction of the album I get a new traditionalist subgenre vibe from Brooks new album. He reals country music back in to a more traditional standpoint unlike the modern country music that is currently popular. Although his album strays from the current modern country themes produced by male country stars, in my opinion, his desire to address life's important themes should be more successful than the more superficial themes currently popular in Country music. The themes in Man Against Machiene, show that Garth still nods to his Oklahoma roots, patriotism, parenthood, and there are trademark dashes of feistiness. Mostly, though, there are well-constructed songs with catchy melodies and a sturdy voice that show that a decade of rest has served Brooks well. This album brings together a new and old Garth Brooks. I urge all of you to check the new album out, and hopefully you will connect to it and enjoy it as much as I did.