Tonight, on Sunday, February 23, 2015, Tim McGraw performed at the Oscars, cowboy hat and all. He didn't belt out one of his classics, but instead performed an original song by Glen Campbell, from the movie, Glen Campbell: I'll Be Me.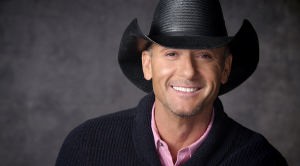 The song, "I'm Not Going to Miss You" was sad and beautiful, describing the experience of getting Alzheimer's and losing your family and the experience that country singer Glen Campbell is going through. And Tim McGraw, without much production, let his performance speak for itself.
I am a huge Oscars person. I love all awards shows in general, but as a movie fanatic, this one takes the cake. I am also a Tim McGraw fan. (I have seen him at the Houston rodeo a ridiculous amount of times.) I absolutely loved seeing him perform, staying true to his roots with his country style simplicity up on that stage.
Watching McGraw's performance made me think about his evolution as a performer. Growing up in Houston where country music dominates half of the radio stations, I was very familiar with his dozens and dozens of chart topping hits, like "Live Like You Were Dying" or "Just to See You Smile." But as I grew older, McGraw's presence in popular culture continued to evolve and expand. He was no longer just known for his country twang, but instead for his acting chops. From Friday Night Lights to The Blindside, Tim McGraw was all of the sudden on my television more than on my radio.
What I found really interesting about this change in career path for McGraw is that he somehow still felt like the same country singer. While I do struggle to recognize him without his beard he sported for the better part of a decade, his personality and career decisions still line up with the Tim McGraw country star persona. He's not starring in action flicks or comic book movies, but instead he is playing roles pretty similar to himself or related to the roots of country music. Whether it's Sandra Bullock's husband hanging out in his native Tennessee in The Blindside, or playing a guy in the country music world in Country Strong, there's an element of Tim McGraw in every role he picks.
The song he performed tonight might not have been his own, but it certainly made me nostalgic for some McGraw hits and it also made me wonder what next movie he will be in. Hey, maybe next time he will be up on that stage accepting an Oscar! You never know!