Country music is part of Taylor Swift's past. In fact, she transcended the country music genre to become one of pop music's top stars. However, country music awards continue to eagerly embrace the cultural icon, as demonstrated by her recent participation in the Academy of Country Music Awards.
At the ACMs, Swift received a Milestone Award that recognized her career achievements. To put things into perspective, Garth Brooks, George Strait, Reba McEntire, Brooks & Dunn, Miranda Lambert, and Kenny Chesney also received The Milestone Award. However, those artists sit firmly in the country music genre. Of course, the Academy of Country Music is well justified in maintaining a connection to Swift.
Taylor Swift honors her country music past. In Swift's acceptance speech of The Milestone Award she thanked Nashville for teaching her how to write songs. Swift performed her first hit "Tim McGraw" on the ACM stage in 2007 when her career was beginning to take off. The next year Swift won the Top New Female Vocalist. After that moment her career accomplishments multiplied.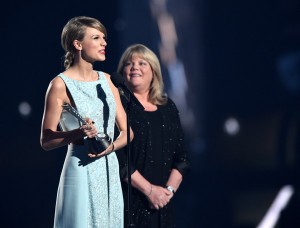 Taylor Swift is a household name. The press follows her fashion, her relationships and her business decisions. Her album sales prove her success. Her new album "1989" spent 24 straight weeks in the top five of the Billboard 200. It was also the first album to sell one million traditional US copies in 2015.
Taylor Swift helps other artists. With the world's fourth largest Twitter following, when she mentions an artist, her fans respond by buying the album in droves. She also gives singers with their first album a spot on her tours, helping to propel them to success.
Taylor Swift provides a huge ratings boost. Non-country fans likely watch shows just to see her. Now that she's pop, is it too much of a stretch to see her at a country music award show? When her previous album "Red" came out and the sounds of pop music shined through, country radio still played those songs. However, 1989 is not played on country stations at all.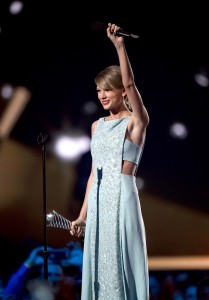 As Swift accepted the award she said, "Somebody once told me that you truly see who a person is when you tell them something they don't want to hear…And so to the country music community, when I told you that I had made a pop album and that I wanted to go explore other genres, you showed me who you are with the grace you accepted that with. I will never forget it."
With these words, it seemed as if Swift said her final farewell to country music. She gave the country audience a bit of closure, but can country music award shows afford to let her go?