Almost everyone in America during the year of 2003 knew about the dramatic public announcement made by the Dixie Chicks during a concert in London. This caused a massive stir when the group announced that they were "ashamed that the President of the United States is from Texas," and that they were not in support of the war and violence that was occurring. Many people saw this as complete and utter disrespect for America, the government, and most importantly the U.S. troops who were sacrificing their lives on behalf of the country. The group even saw a major decline in record sales and popularity.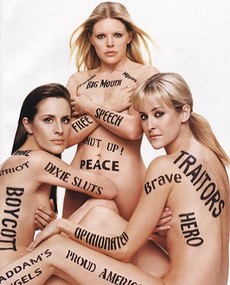 Growing up, the Dixie Chicks were my all- time favorite singers. I spent hours listening to their CD's on my boombox, making up dances to their songs with my friends, and memorizing the lyrics that glorified girl power and being a southern girl. When the London concert incident happened, I could not have been more upset. I had so much respect for those women, and looked up to them very much, so when my parents told me I was no longer allowed to listen to them I was simply heartbroken as a little girl. I come from a conservative, Republican family, and I know I was just one of hundreds that banned the Dixie Chicks' music from their household.
I can see exactly why what the Dixie Chicks did was disrespectful and dishonorable, but looking back on historical artists of country music many of them were so widely known or popular because of their "outlaw" status. After reading and learning about Waylon Jennings, Willie Nelson, Johnny Cash, and Merle Haggard to name a few, I realized that the Dixie Chicks could easily be considered outlaws. They didn't go to jail or shoot anyone, but they stood up for what they believed in while bashing very important figures, and did so in a highly public manner. Clearly their rebelliousness didn't produce a positive result or increase their popularity as some outlaws experienced, but they were acting out in classic outlaw behavior that was very prevalent in country music throughout history. They didn't care what their label or fans would think, but wanted to say what they were feeling, even if it was disrespectful and would cause a major backlash. Very similar situations and decisions are what gave some artists in history that very reputation of being an outlaw. However, because the Dixie Chicks were displaying the opposite of patriotism, which is such a huge part of country music, there is no way that they could receive any type of positive feedback from it. There's no turning back once you do something like that. But is rebelling this drastically not outlaw status even more?