Throughout the semester I have noticed a huge dominance of country music in both the Austin culture, and my own culture overall that I had no idea was really there. My sister and I share a Spotify account, and she has been both shocked and confused at the different types of country music that I have found myself downloading throughout the past few months. It's crazy to think how ever- present the country world really is, and it has definitely made me more appreciative of the music and everything that comes with it. Here are a few of my adventures that document the change I have experienced.
Two- stepping in Luckenbach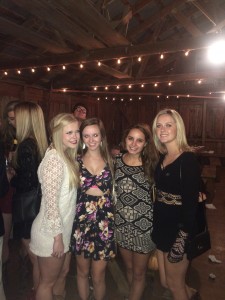 One Saturday some friends and I decided to go two- stepping in Luckenbach, Texas. It was definitely a drive, but we wanted to get the full country effect of country dancing. The dance hall was completely wooden, very rustic and genuine. I felt like a Southern belle in the era of Waylon Jennings just by being there. There was a band performing, with people dancing the night away. Much to my dismay, they never played the famous track, "Luckenbach, Texas," but it still was a night to remember.
2. Willie Nelson Statue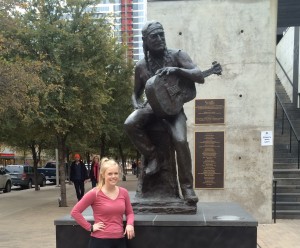 Another thing I did as part of my country adventure was visit the ever famous statue of Willie Nelson. There on the corner of 2nd and Lavaca Street stands the American icon himself. 2nd street is now known as Willie Nelson Boulevard. The massive statue sits right outside the Austin City Limits studios. Seeing as Austin is known as a music capital, and of course a proud advocate for the, "Keep Austin Weird" culture, it's only fitting that a musical superstar with a hippy lifestyle praised by his fans be constructed in bronze right outside the studios. He is now even a resident of Austin, and continues to excite the Austin community with his performances consistently.
3. Cowgirl Hall of Fame
The Cowgirl Hall of Fame is one of my favorite parts about my hometown, Fort Worth. Since it was built in 2002, I have been visiting ever so often, especially when we have our touristy family members in town. It wasn't until I took this course that I realized how the brave outlaw cowgirls were connected with country music. The HOF is an empowering place for women in the country culture, as it, "celebrates women, past and present, whose lives exemplify the courage, resilience and independence that helped shape the American West." To me, the abundance of Cowgirl HOF's across the country have instilled a sense of pride and honor among country women, especially musical artists. Women have come a long way in country music, and it's places like this that could have inspired women to make their mark in country music. It made me feel proud of both country music and its culture to honor women in such a noble manner.
I highly recommend taking a trip to any of these places. It might not be your usual weekend agenda, but they are sure to be worth your while!