'Do you think he'll remember you?' my mom called and asked me on Friday as I sat delayed in the Austin airport. After seeing Luke five times in concert, and getting to meet him once, she has come to realize when it comes to Luke my sisters and I don't mess around.
I tried to explain to her Luke Bryan, the ACM and CMA reigning Entertainer of the Year, has performed for over a million people just this year, and would absolutely not recognize my sisters and I in a crowd. Our evening started around 5:00pm- a solid two hours before the first opener even came on. We staked out our spots in the pit and ended up standing in the same spot for about a solid six and a half hours- but it was more than worth it.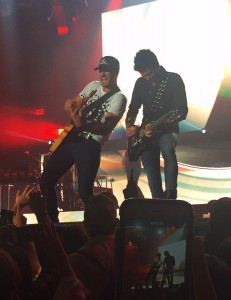 Luke busted out on stage like an energizer buddy, blasting "Kick the Dust Up". Without missing a beat, he seamlessly transitioned into one of his oldest hits, and my personal favorite "All My Friends". Sure, no Luke concert would be complete without some booty shaking, growling into the mike (I think only he can get away with that one), and some other funny but scripted moments.
In formal interviews, he's a little more guarded now. After suffering another family tragedy, the loss of his brother-in-law (husband to the sister Luke lost almost 10 years ago), and wary of some reporters constantly trying to nail him with 'Gotcha!' questions about the bro-country debate, it's not unexpected.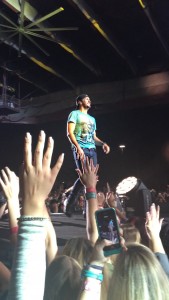 We saw how spontaneous he is on stage, when he's in his element and in control doing what he loves. So many times he would just crack himself up about something, or he would bust out a move that no one else could have pulled off with pride unless they had a great sense of humor. We could even see him motioning to the sound crew to turn down the music volume- he can hold his great vocals on his own more than fine- shenanigans and all.
Oh, and one more thing. He can sing. Besides playing over 18 of his own songs, from "Rain is a Good Thing" and to "Strip it Down", Luke went above and beyond to make the concert as fun and amusing as he himself is.
From DJ-ing "Apple Bottom Jeans" on the piano (only Luke), admitting that yes, he's no Calvin Harris, to entertaining the crowd with a delightful discussion of the Whip, to killing it on the piano to one Alabama's classic hits, to then rolling right into George Strait's "The Chair", beyond showcasing his mastery of the piano, Luke was making a much larger point.
No matter how many awards he racks up or how many albums he sells, slacking off as an entertainer isn't something he's interested in.
He brought out his opening acts again mid-concert, Dustin Lynch and Randy Houser, on stage for an awesome harmonization of "Sugar"- but not without some Moscow Mules and tequila. Luke created THE funniest and most fun concert environment I have ever been in.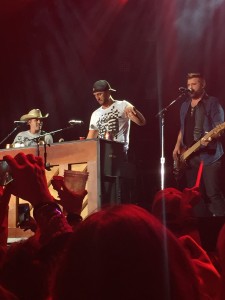 The concert felt just as intimate as when he first performed at the Houston Rodeo as a nervously excited but energetic 34 year old. I attribute that not to a venue, manager, or set list- but to the performer. My 11-year-old sister put it best, 'When I think of Luke Bryan, I just think he's my buddy.'
History will determine his place in country music, bro-country debate included. As the Dallas Morning News wrote in their assessment, it seems like he's put it behind him, regardless of what nitpicky skeptics still say. But for now, it's his likability and love and talent for what he's doing that has him on top.
So no, mom. In the pit as he leaned down and sang a double encore of Country Girl, he didn't recognize us- unfortunate but not unexpected. But from how much fun he was having, and how his contagious humor and energy infected the whole performance and venue from start to finish, it sure felt like he did.