What do you think of when you picture West Texas? Something that comes to mind may be a straight road through the middle of no where with a speed limit of 85 or possibly a dark starry night with abandoned diners. That is what I thought of too until a few weekends ago. Now, I picture the beautiful Big Bend National Park and the welcoming people of Marathon, TX. This is an image that I am sure El Paso native and country music singer Abe Mac can agree on with me.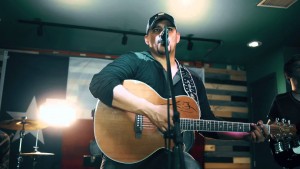 These days it is hard for artists to "make it big" and this under the radar musician is someone I want to share with ya'll.
When first arriving to the Gage Hotel in Marathon, I was a little concerned that I could stand at one end of the town and see the other. But once discovering that there would be a live performer for dinner, I was satisfied. I had the privilege of eating a delicious meal while listening to Abe Mac perform for the restaurant. He grew up in far west Texas just minutes away from Rosa's Cantina. Never heard of it? Well maybe you have heard of Marty Robbins' song called "El Paso" where he says, "night-time would find me in Rosa's Cantina." Mac was not only inspired by Robbins, but also many other Texas country stars like George Strait and Merle Haggard. He can play drums, keyboard, and guitar. Throw out a song and he can make a beat and play. He had no back up band with him but was using a multi track song recorder to create his own band. He would record a few guitar chords and a beat with his fist on the body of the guitar and then start playing.
But, his original songs were even better.
Mac has released two albums, "My Kind of Friends" and "American Country," and a single since 2013. He has a couple of music videos out as well. His songs range from an array of county music topics like tequila, whiskey, girls, family, and America. Going off of that last topic, his song "Far Away," that is accompanied by a music video, is one of my favorites.
In this song he is singing from the point of view of a soldier. It discusses the troubles of coming home after being deployed. You can tell from the music video that he actually knows people who have experienced these troubles and cares about the topic. He actually works with the American Patriots non-profit organization to raise awareness for PTSD. This is a song he wrote, not something that a producer told him to just sing, which comes through in his performance. In fact, Mac is an unsigned independent artist who just loves to play his music.
While watching him perform he was just so happy to be up there entertaining people and connecting with the crowd. While he clearly has high hopes of making it big and playing at sold out venues, he loves what he does and is in it to make himself and his fans happy.