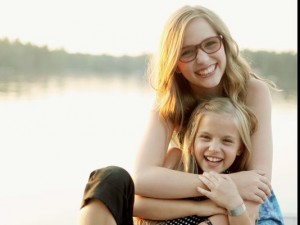 The casting directors of the hit show Nashville had a moment of genius when casting the roles of Rayna James's daughters. They selected none other than the Canadian sisters Lennon and Maisy Stella. Who are they you might ask? Well, Lennon (16) and Maisy (12) started their singing career by performing covers for hit songs such as "Call Your Girlfriend" and "Ho Hey" on their YouTube channel. So, lets take a closer look at these young stars.
Born into a musical family, with both parents in the music business, the girls became interested in the music world from a very early age. Lennon even got her first guitar when she was five. Her father, an experienced guitarist taught her how to play and from then on she was hooked. The most surprising fact about the sisters is that neither of them has ever received lessons or professional vocal training, they both play numerous instruments and sing in two-part harmony without prior instruction. The girls have written songs together in their early years and played at various shows and festivals alongside their parents before being discovered by Nashville.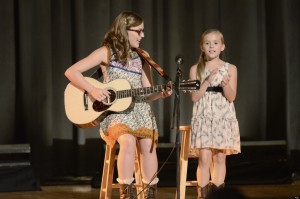 Although music was the girls' true passion, Maisy had always been interested in acting and decided to try it out. She had been featured in several different commercials and music videos growing up so acting became her second love. When her agent became aware of a role in a new ABC show that was being filmed in Nashville, Maisy immediately saw it as a a sign and auditioned. During the final stages of the auditioning process, the casting agents discovered that Maisy had an older sister, Lennon, and decided that the girls would be a dynamic duo on the show. Lennon & Maisy began starring in the ABC drama Nashville in October 2012 and have become a nationwide hit. Their sweet and innocent sound as captivated viewers. They have truly become some of the most popular young artists in the Nashville scene. If you haven't heard them sing before, trust me you will be listening for hours.
Their first hit, Lennon and Maisy's cover of "Call Your Girlfriend" by Robyn and Erato showed their potential as artists and hooked viewers on their sound. Using empty containers of butter as musical instruments, the girls displayed an aspect of creativity that was hard to match.
Their cover of "I Wont Give Up" by Jason Mraz shows the range of their voices and the beauty of their two part harmony.
Finally Maisy's performance of "Have a Little Faith in Me", by John Hiatt, shows the 12 year olds ability to harmonize with any voice.
I hope you have become interested in these young artists, because trust me they are taking not only the country music world, but entire musical kingdom by storm.