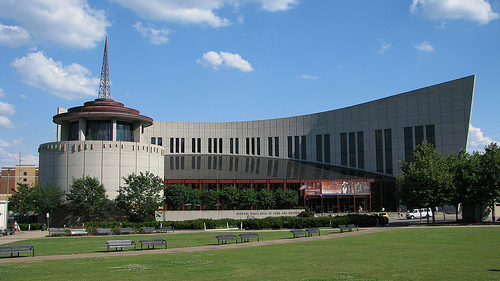 The Country Music Association (CMA) was founded in 1958 while country music was experiencing something of an identity and commercial crisis. With Elvis Presley, rock music, and the Top 40 format all on the rise, industry leaders feared that if they didn't take action country music could disappear completely.
One of the CMA's goals was to prove to the world outside of Nashville that country music had a significant audience and could make a lot of money. In a memo to radio stations interesting in tapping into the country audience, the organization offered the following guidelines:
Don't approach the Country Music listener as a "different" type animal. . . . Don't instruct your announcer to "sound country." There is no reason for deejays to take on a phony accent, or drawl, because they're programming Country Music. Don't assume the Country Music listener is less intelligent than any other. . . . Be careful that your programming is not slanted down to your audience. Country Music fans are intelligent people. (Qtd. in Pecknold 147)
Since 1961, the CMA has also operated a Hall of Fame (HOF). The HOF's procedures have evolved over time, but recently it has stuck to inducting members in three categories. The first category recognizes a "Veterans Era" performer, which means an artist or group that rose to national prominence at least 45 years ago. The second category recognizes a "Modern Era" performer, which means an artist or a group that rose to national prominence between 20 and 45 years ago. Lastly, the HOF makes an additional induction every year of someone who isn't a performer. Sometimes it's an instrumentalist, songwriter, or comedian. Other times, it's a producer or studio executive. In our class, we'll focus on the "Veteran" and "Modern" performer categories.
Today's assignment
In class today, you will write a response to this post that includes two parts.
First, summarize the criteria that the HOF uses to decide the artists that it will induct. To do this, you will need to extrapolate your answer from a variety of sources including the excerpt from The Selling Sound and the HOF's website. You'll notice that both of these sources indicate several reasons that a performer may be inducted. Which to you seem like the most important?
Second, select one performer who has been inducted since 2009 and explain how he or she meets the criteria that you just outlined. You will need to do some additional research into the performer that you choose (using Wikipedia, etc.) to explain your answer.
Lastly, if you already know who you want to propose as a new member of the HOF in your final paper of the semester, then say who it is and briefly why.