It's really interesting how country music has had such a big impact on my life growing up, especially since I've lived in the south my entire life. It wasn't until I moved to Texas when I was 11 years old that I actually fell in love with the genre. Country music has a deep history in Texas and popularized some of the best country artists to this day (and my favorite, George Strait). From the places I've been to the shows I currently watch, the country music lifestyle is continuing to influence my life in pretty subtle ways. I love this class because it has really made me appreciate my loyalty to this genre.
Threadgill's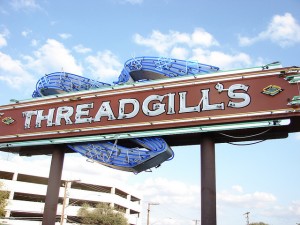 I went to Threadgill's a few weeks ago with my friend not knowing much about it other than the fact that it was another Austin hot spot. You walk into the restaurant and there are pictures all over the walls of some of greatest artists throughout the history of country music. Country music lover Kenneth Threadgill opened the restaurant in 1933. Fun Fact: he was the first person to own a beer license in the county. Janis Joplin even made a few appearances in the restaurant. If you want to experience live country music while eating good ole' southern cooking, Threadgill's is the best place to go.
Nashville (TV Show)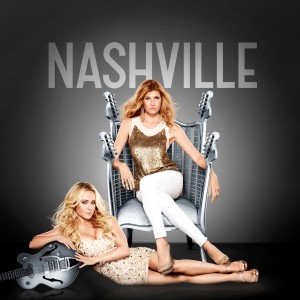 I started watching this television show as soon as it aired on ABC in 2012. The show stars Connie Britton and Hayden Panettiere and focuses on their character's clashing careers. Country superstar Rayna James (Britton) struggles to uphold her career with the contemporary direction country music is heading. Her stardom starts fading when Juliette Barnes (Panettiere) becomes the hot new star, appealing to the younger audience. There's a lot of speculation if the show is based off real life situations that have happened in country music. Maybe Rayna represents Faith Hill's diminishing career as rising country star Carrie Underwood, played out as Juliette Barnes, comes into the scene. Because Hill and Underwood had rumors swirling several years ago about tension between the two, maybe the creators based their lead characters off their public debacle. Regardless, I am a huge fan of this show and all the drama that is played out on the screen. It really shows the struggle of making it big in the industry, and it even features the renowned Blue Bird Café where several big-time artists were discovered.
2015 CMA Awards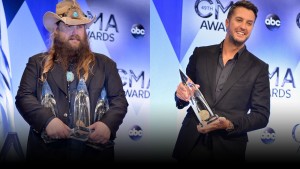 I have been tuning into the CMA Awards for as long as I have been a country music fan. All of my favorite artists coming together to show-off their best work is my favorite awards show of the year. The show has been hosted by Brad Paisley and Carrie Underwood since 2008, and as their careers are better than ever, I don't see them slowing down. The Entertainer of the Year award of course went to Luke Bryan, the hottest singer in country music today. Female Vocalist of the Year went to Miranda Lambert while Vocal Duo of the Year went to Florida Georgia Line. It seems that country music is starting to accept a pop sound and these successful singers are focused on creating crossover hits. Probably the biggest shock of the night happened when Chris Stapleton won Male Vocalist of the Year. His debut album was released in May, and he walked away with three awards that night. This is an artist I think all country fans can get excited about. He's bringing back the traditional country sound with his hits like "Tennessee Whiskey" (which he performed with Justin Timberlake on the show) and "Traveller." With all the mainstream country music, I'm glad to see that people will still appreciate the classic sound that popularized the genre through the 80s and 90s. Chris Stapleton won some incredible awards that night for someone who has only been on the radio for a few months. Who knows, maybe Chris Stapleton will be the next George Strait.