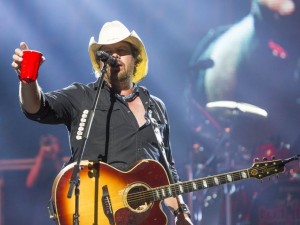 My Monday started out as one of the best Mondays one can have—my parents handed me two front row tickets to see Toby Keith at the San Antonio Stock Show & Rodeo that evening. The excitement that poured over me to finally have the opportunity to see one of the first country stars that influenced my love for the country genre was surreal. Immediately I opened my Spotify app to start preparing for my night, I started out with some classic oldies like "I Wanna Talk About Me" and "Beer for my Horses" before I decided to try a few songs off of his new album… Meh. At first I didn't even think about the fact that Toby had released a new album within the past couple of months and I hadn't heard a thing about it… I realize now that that was the first red flag.
Towards the end of the day, after endlessly hyping myself up and teaching my ill-informed boyfriend some of my favorite Toby songs, we were just about ready to head to the rodeo. We spent the first hour or two walking around the stockyards and eating corndogs, completely submerged in hundreds of fellow fans wearing Toby paraphernalia—it was Toby Keith mania. Nothing made me more excited to hear him play than to be surrounded by so many other people who shared the same passion for his music as me. As the sun went down and the trailers started packing up their livestock, we headed for the entertainment arena.
The rodeo was amazing. I have grown up going to the show every year of my life, yet never growing tired of seeing the same events in the same order with the same smells and the same atmosphere. There's something so comforting about returning every year to an event that seems to never be influenced by change.
As soon as the last bull rider barely made it past his eight seconds of whiplash, the lights went down and I actually got butterflies in my stomach. Toby came out in a Ford truck with nothing other than a Red Solo Cup shooting through the sunroof. As hilarious as I thought that was, it wasn't less than a minute later when my excitement vanished and I quickly felt a yawn engulfing my face.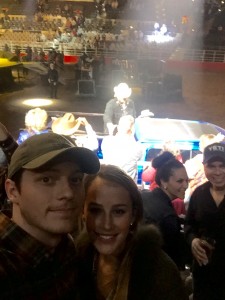 Everything was off. The drums and the guitar were louder than the vocals; I could barely even hear him considering I was in the front row. The dancers had little energy and were completely off beat. And unfortunately the worst of all was how wasted Toby was. I had seen drunk performers before, such as Pat Green and Tim McGraw, and obviously I had had something to drink as well because drinking and country music go so well together, but there was something so sad and disappointing to see someone who you liked so much as child now as a fat old drunk. He played some of the songs I knew, but mostly many songs that neither the audience nor I had ever heard of, which was obvious by the amount of people sitting down or leaving. I made myself stay until the end in hopes of hearing my all-time favorite song, "Courtesy of the Red, White, and Blue", but left in complete disappointment as he never even sang it. There was something so upsetting to me about seeing him in such a bad state, almost like going back to a place you loved when you were young and innocent, only to see it old and corrupted. Although I still will probably jam out when I hear an old Toby Keith song on the radio or at a party, I won't forget the fact that his song speaks the truth, he really just ain't as good as he once was.