As my last semester of college comes to a conclusion, I feel like there is no better way to reflect on my year than to talk about the music that got me through it all. Country music has always been a part of my life, but I don't think I had appreciated it the way I am able to now after taking this course. This course has encouraged me to go outside of my country comfort zone and has brought so many new artists and songs into my life that I am so grateful to know now. A few particular activities that I participated in this year would not have been as enjoyable without my knew appreciation for country music, and I will forever remember how awesome they made the end of my college career.
1. The Italian Johnny Cash
Last semester, while studying abroad in Italy, my friends and I took a weekend trip to Venice. No trip to Venice is complete without an overpriced, classic tour of the river city on a gondola with good wine and great entertainment. The gondola man was quick to notice that we were Americans, but naturally after having a few glasses of wine we sassily corrected him that we were Texans*. A huge smile immediately appeared on the man's face, and was then followed by the best Italian rendition of "Ring of Fire" by Johnny Cash. With the little english I had heard him speak before, I was shocked at how well he could sing every lyric to the classic tune. I was so impressed by his singing, I requested more and more Johnny Cash songs, and to our surprise, he sang (and perfected) every single one of them. This is one of my favorite memories from studying abroad in Europe, because it made me realize how much of a global impact country music has had on everyone, and how music can be enjoyed and shared by so many different cultures. Hearing Johnny Cash in a foreign place gave me the best sense of nostalgia and made me proud to be a fan of country music.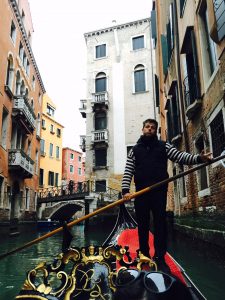 2. The Grammy Winning Rodeo Performance 
As I try to do every year, I attended the San Antonio Stock Show and Rodeo this year with a big group of my friends. I'm usually very particular about which performer I like to go see, but since I was invited by a friend, I didn't even think twice about who we were going to see that night; I was just happy to be able to go! I had heard my friends talking about "Chris", but sadly I had no idea who that was and I didn't pay much attention to why he was important. When we got to the arena, we got our hotdogs and beer, sat in our seats and enjoyed the rodeo. After the last bull rider, the audience prepared for the performer, "Chris". Throughout his concert the crowd was wild; the people around me sang along to every song, I danced around with my friends, and took some fun pictures… but I still had no idea who this guy was. We had a fantastic night, everything about the performance was amazing. A couple of nights later my friends and I were watching the Grammy's on television, and to my surprise, "Chris" was up there claiming his first award. It finally registered that I had seen Chris Stapleton front row at the rodeo just a few nights before. I felt so dumb but at the same time felt so proud and excited that I got to see the Grammy winner just a couple of nights ago. The night at the rodeo was just a great reminder to me about how humble country music can be; regardless of who the performer was, he put on a fantastic show and gave us all a hell of a night.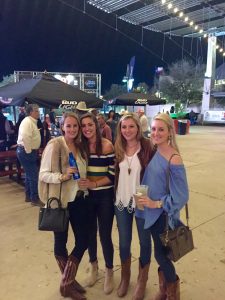 3. Gone But Never Forgotten
The one event I was looking forward to the most for my "country music to-do list" was to see Merle Haggard and Willie Nelson perform in New Braunfels in the middle of April with my dad. Growing up, Merle Haggard had always been my parent's favorite country singer. As a little girl, we saw him several times at the rodeo, played his albums every Christmas and New Years at the ranch, and impersonated him any chance we could get. I even nicknamed our bearded neighbor "Merle" because I was genuinely convinced that it was him. When I read that Merle and Willie were going on a reunion tour and were coincidentally going to be near Austin on the same night as our Dad's weekend, I knew I had to get us tickets. Unfortunately, the historic country legend passed away just about a week before the concert. The entire country community was saddened, as he was truly one of the greatest country artists of all times. Even though Willie vowed to still perform the following weekend in honor of his late outlaw partner, we decided not to go because we knew it would not be the same. My dad wanted to keep his favorite memory of younger Merle performing, which I understood. Merle Haggard was a staple of my childhood and will always remind me of my family, which is why country music has become so important to me over the course of this semester.