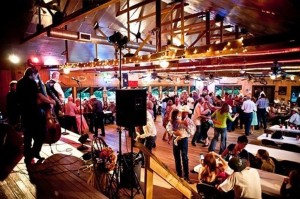 There is nothing more fun than to grab a group of friends on a Friday night, head to your favorite honky tonk, grab a couple of cold ones, and spend the entire night dancing to some of your favorite country hits. If you have never had this experience before; 1). I'm sorry! 2). This post is for you! Think of me as your country fairy-god mother, I'm here to lay out the beginners guide for you!
First things First: Attire!
The best part about going out is the fact that you get to dress up! (Even the guys will admit to it!) Now if you're going to a western bar you have to look the part.
-Men, put on a pair of your best pair of starched Wrangler jeans (yes your butt looks great), Nicest pair of cowboy boots, an attractive button-down shirt, and your sexiest cowboy hat (don't take it off because, yes, you do look like a different person without it!) That's pretty much all you need, you're all set!
-Now ladies, slay in your hottest dress or most formfitting jeans you own, pair them up with your own amazing boots, killer jewelry, a gorgeous face, and the most teased hairstyle you can come up with (Remember: the higher the hair, the closer to God!) Now you're ready for a night on the town!
Location, Location, Location
Now that all the prework is done, it's time to find a place to go for the night! Since I'm located in Austin, I can only give you suggestions of a couple of places around here. I do advise that you do a Google search to find places near you!
1). Broken Spoke– located at 3201 S. LAMAR BLVD.   AUSTIN, TEXAS 78704. This place is known as the "Last of the true Texas Dance halls." You could enjoy great live music, a friendly crowd of regulars, wonderful food, and cheap drinks. Also, if you have two left feet on the dance floor every Wed.-Sat. lesson are held from 8:30-9:30. Come out and experience a "must" in the Austin area.
2). Dance Across Texas: Formerly known as Midnight Rodeo, this dance hall is located at 2201 E Ben White Blvd. Austin, TX 78741. This is another awesome place known for its tremendous atmosphere to have a good ol' hoedown. With the "best dance floor in Austin," you and your friends are sure to have a fun night, not to mention the low prices on drinks. With live music mixed with a DJ I'm sure there is a selection of music for every person.
3). Old Coupland Inn and Dance hall: If you don't mind the drive this place is located at 101 Hoxie St Coupland, TX 78615 (a 35-minute drive outside of Austin). This isn't your ordinary "pickup joint," this place has a family atmosphere where you can enjoy dinner and a night out dancing. Known for its light and fun atmosphere, Old Coupland is really a place to have an old fashion good time.
Practice Makes Perfect:
If you don't know many of the line dances that are seen in dance halls, fear not; remember I'm here to help! Now for the most part, people are usually nice enough to help you catch on with hands on experience, aka, get out there and fake it till you make it! Which is perfectly fine to do and actually really fun, but if you want to hone your skills I would suggest watching the YouTube videos of Miguel Guzman. He has tutorials of all the great line dances and breaks them down well enough so that anyone could learn. Maybe the week leading up to your outing you could spend a couple of minutes a day learning the steps to some of your favorites. It'll be more exciting than your homework anyway! That way you could surprise your friends when you're keeping up with older folks who've been doing it for years on the dance floor.
Don't rock the jukebox:
If there happens to be a jukebox at the place you decide to attend, please I beg you, KEEP IT COUNTRY!!! You are at a dance hall, not a nightclub or a rock concert. There are plenty of hits by George Strait, Brooks & Dunn, and Alan Jackson! Don't be that person who halts the dance floor and has hundreds of eyes glaring at them all night. DON'T BE THAT PERSON! Enjoy the fun, authentic, Texas experience of a dance hall. Trust me it'll be something you'll never forget!
Be back by Midnight… or 2 AM!
As your country fairy-god mother, I have given you pretty much everything you need to have a great night out with friends, it is my hope that you take these nuggets of wisdom and use them well! Now go out, have fun, be great!