This post is kind of long, and for that I apologize, but I had a lot to say.
Walking into this class, I thought I knew everything there was to know about country music, basically just from listening to it on the radio growing up. However as the semester draws to a close, I know far more about the genre than I could've ever imagined. I can write 2,000 word essays on country artists I didn't even know the name of, I can recognize landmarks and important relevant places that I previously would've walked right past without a second thought. I've come to appreciate different sub-genres of country that I'd never listened to before and I have a new-found understanding of how difficult it was to branch out in country music and its sound.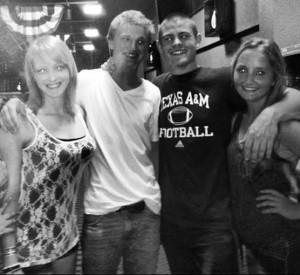 At the start of the semester I somehow got roped in to going two-stepping at that new dance hall that replaced Midnight Rodeo, Dance Across Texas. Dancing is NOT my forte, and country clubs are not my favorite place to venture, but it was Ladies' Night so it was free which meant I wasn't completely opposed to the idea- couldn't be too bad right? Wrong. My toes got stepped on way more often than I stepped on anybody else's toes, and it was impossible to find a dance partner that didn't call me darlin' or sweetie or something of the like. Maybe I'm just not as into the cowboy southern charm as I'd like to think I am, but it was real difficult to find anybody worth a second dance. I was also one of very few 'ladies' sporting blue jeans and not a sundress or cutoffs. The music selection wasn't really up to par either, they mostly played Country Top 40 and "DJ Wade" (who I'm convinced was just a dude they found that pays for Spotify) played around 6 Luke Bryan songs in under two hours. Maybe I went on an off night- if you've had a great time at DAT then I'd love to hear about it, but I can't say I was impressed. As for those boys in the photo, they turned out to be high schoolers, so yeah, all in all a pretty rough night.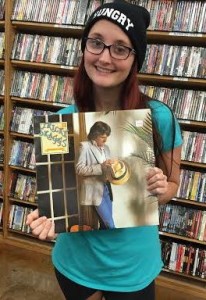 Ricky Skaggs is one of those names I would have scrolled right past on my newsfeed before taking this course, so when I saw an album of his at Half Price Books I decided to check him out; although I'll admit Reba McEntire and Kenny Rogers made it a tough choice to make, let me tell ya. The album I listened to was "Waitin' for the Sun to Shine" at a friend's who begrudgingly let me use their record player; I guess she's not a Skaggs fan. Overall I thought it was decent (hold your fire), but I think we listened to more interesting songs of his as a class. A few of the songs stood out for me, namely the two where he plays the mandolin: "Don't Get Above Your Raising" and "So Round, So Firm, So Fully Packed" which it actually turns out is originally a Merle Haggard song and the statements he uses to describe the woman were all advertising slogans from the time. These were definitely the two most enjoyable songs to listen to on the album, along with "You May See Me Walkin'", and "Lost to a Stranger" for their angsty heartbreak themes. Everything else seemed to have a kinda particular sound, and I wasn't really into it, if you wanna check out Ricky Skaggs I recommend selecting a different album but it's pretty popular so a lot of people probably disagree with me- I probably should've went with the Kenny Rogers record in hindsight.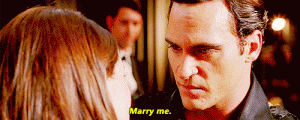 Last night, when I realized I had to finish this blog post, I sifted through my parent's shelf of ancient DVDs and with no luck, decided on "Walk The Line" to rent on Amazon, and let me just say, Reese Witherspoon displayed a refreshing amount of acting capability considering the last thing I saw her in was Hot Pursuit (blegh). I honestly enjoyed both the Pheonix and Witherspoon renditions of the Carter/Cash songs throughout the movie, even if it sounds a little more Sinatra than it does Cash country- I wouldn't have expected Reese to have anywhere close to the vocal presence that she shows in the film. The movie seemed very one-sided, and I would've liked to see things from an alternative lens than the constant "Johnny and June" angle we are fed, but it's an intriguing movie and didn't seem to drag too much. My favorite part was definitely the onstage proposal, I really thought Carter was going to say no, but he manages to convince her (and me) that he's worth a shot. There are so many cute moments between them throughout the film and I'm really glad I saw it.
At the start of the semester, I didn't know that country music even had a hall of fame, I had no idea that it extended past the borders of Toby Keith's "Boomtown" and Martina McBride's holiday album. This class totally changed my perspective and I appreciate so much more about both the history of the genre and the lives of people involved, the music itself is not the only thing I pay attention to anymore. At my family's thanksgiving Chris Stapleton came up, and for the first time I think ever I knew more stuff about a country artist than the rest of my relateds. I hope you had as much fun reading about my experience as I did writing about it.