I have never thought about how much my life involves things that can relate with country music. When I look through my photos, and think about my time in this course throughout the semester, I realize that I immerse myself within country music culture throughout Austin without even realizing it. Between my family ranch and riding my horses, to weekend trips down to concerts at Nutty Brown Café and Gruene Hall, I could easily write a country song about my life. Here's a few things I've done the past few months that strongly show how country music is reflected through my life:
Zac Brown at Austin360 Amphitheater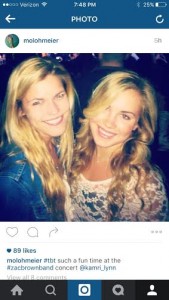 Zac Brown Band and friends played recently at Austin360 Amphitheater and I was able to attend with a good friend of mine who goes to A&M (boo). This was in early November and I later posted a throwback photo on Instagram from the concert. I've seen Zac Brown play multiple times, and each time they have fun props and settings up on stage to add to the country feel. Even though this band is extremely popular these days, and believe me, there was certainly a huge crowd at the concert, the band does a great job giving off the vibes of a small-town Texas country band. I think that may be why I adore them so much in concert.
2. My ranch & horses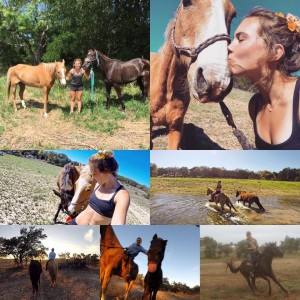 While "visiting your ranch and working with the horses" wasn't on the list of activities to do around Austin, I couldn't help but feel that this is the most country thing available to do nearby, and I do it often. There are countless country songs about life out on the farm, or ranch, and working with the horses or cattle and what not. Out in Wimberley, my father owns a ranch with a little cabin and some livestock. We go out there on weekends as a family to ride our horses, hunt, shoot guns, do work on the land with the tractor, and basically anything else you can find in a Jason Aldean song. My horses mean a lot to me. I look forward to the 45 minute drive down to the property and my heart warms when I put my work boots on and grab my saddle from the tack room. I spend hours riding around the land on Corzo, my sixteen year old palomino, retired cattle horse. He's a sweetheart. Try and tell me that this activity doesn't belong on the "Country Experiences" list.
3. Gruene Hall
 Gruene is one of my favorite little towns in Texas, in line with Wimberley for sure. With Gruene being close enough to head over to after visiting the ranch for the weekend, my friends and I often stop by on Saturday nights and dance at Gruene Hall, or eat at the Gristmill next door. I've yet to go to a concert at Gruene Hall but I love just stopping by for a quick drink or chicken fried steak. If you've never visited Gruene before, I'd highly recommend jumping on I-35 for the quick 45 minute drive down to this awesome little old-fashioned town.
Looking at how often I do these things above, whether it's ranch outings, Gruene Hall dancing, or the never ending availability of concerts to attend in Austin and nearby towns, it's easy to see that Texas is a prime place to be when it comes to the country music lifestyle. Participating in these activities on a normal basis while living in Texas, I'm able to relate to so many of the country songs we've studied this semester in class. I have truly enjoyed studying the rhetoric of country music this semester, and being able to apply it to my daily life in numerous ways.