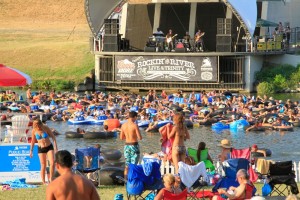 Country music has always gone hand and hand with warmer weather and water. As summer begins, country artist begin to release new albums and singles made for the season, and things that go along with it. Songs are filled with lyrics about cold beer, the scorching summer sun, bathing suits, and great times out on the water with friends. Summer country songs are usually up beat and high-spirited, and the good ones will make you want to roll the windows down as you sing along. Around this time of year all I want to do is float the river or hop on a boat at the lake with friends and listen to country music. Fortunately enough, my hometown of Fort Worth has recognized the relationship between country music and water. They have done so by bringing a concert series called "Rockin' the River" to town.
"Rockin' the River" is a concert series held on the Trinity River in Fort Worth every summer from June to August. Each Thursday an up and coming Texas country artist will preform at Panther Pavilion. This is an elevated stage that sits on the riverfront, and the downtown skyline serves as a backdrop for the stage. Past performers include The Damn Quails, Cody Jinks, Brandon Rhyder, and I have even witnessed a performer do a backflip off the stage into the river.
Admission to this event is free, all you have to do is rent a tube to float in the river if you don't bring your own. Backwoods is also there so fans can rent kayaks and paddle boards to relax in as they listen to the concert. Of course there is beer and food available for purchase when you arrive. Don't feel like getting in the water? You can grab some lawn chairs to throw out on the lawn by the water. Lastly, the night is ended with a small firework show. It makes for a great summer evening.
The reason I bring this concert series up is because I love it so much, and have enjoyed it many summers in the past. My only question is why does Austin not hold a series similar to this one? Yes, there is Blues On The Green in Zilker Park during the summer, but that's just not the same. Austin needs to take advantage of Town Lake. I propose a developer comes into the Zilker Park/Town Lake area and build a stage that hangs over Town Lake. Then we to could float in the lake and listen to our favorite Texas country artists here in Austin. If fans did not want to get in the water, the developer could also make a lawn area near the stage so lawn chairs could be laid out. Just as Panther Pavilion has the skyline as a backdrop, the Austin stage could use the Austin skyline as a backdrop. After all, Town Lake is located in the middle of downtown Austin.
Not only would this be good for country music fans, it would be good for the city as a whole. Local businesses could sponsor the concert series, and benefit off of it. For example, Austin Kayak could be there to rent out kayaks and offer demos. A local brewery such as 512 Brewing Company could sell beer at the event. Local food trucks could find parking on the lawn to serve hungry fans. Yeti could rent out coolers and show new products. At the end of the night you have happy country fans, and local businesses that have advertised and profited off the concert. How would y'all feel about an event similar to the one I described?