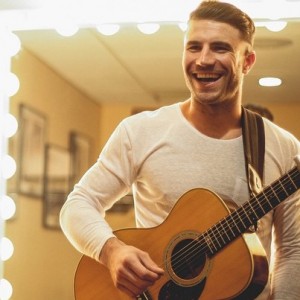 Debuting his first full-length studio album Montevallo in late 2014, Sam Hunt is fairly new to the country music scene. Upon first listening, I found him to be fairly similar to the rest of the up and coming bro-country singers; he didn't appear to have an incredibly distinct sound or look (though I can't deny that he's completely gorgeous), and his lyrics seemed to discuss nothing more than beautiful women. This was also my first impression of his song "Take Your Time" (2015)—I thought it was simply about trying to pick up a girl in a bar. However, after watching the music video for this song, I now have a deeper understanding of the song itself and a heightened respect for Sam Hunt as an artist.
The "Take Your Time" video is a completely unexpected presentation of the song as it tackles the difficult and raw topic of domestic violence. The video starts off happily by showing a woman, her husband/boyfriend, and their baby shopping together and enjoying kisses on the forehead. However, the story quickly turns dark as the man's alcoholic tendencies and anger issues are exposed. Sam, watching these events unfold as a bystander, tries to find the best way to intervene. At the end of the video, he finally fights the man off while the woman and her baby escape in a beaten up pickup truck.
Sam's lyrics "I don't wanna steal your freedom / I don't wanna change your mind / I don't have to make you love me / I just wanna take your time" discusses his hesitancy in intervening in what appears to be an unsafe and troubling relationship. Sam is put in a difficult position as he struggles to find the courage to trust his instincts and take action. He isn't trying to get the girl to fall for him, but instead is truly concerned about her well-being and wants her to "take [the] time" to get help.
I am completely impressed with Sam's use of this video to promote social change and make a statement about something so real and under-discussed. Bringing issues to light is one of the first steps in creating change, and this song is the perfect example of how musicians possess the power to fight for causes that they care about. I'm excited to see where the rest of Sam's career takes him, and am hopeful that he will continue to use his talent and passion to make a difference—ultimately encouraging others to follow in his footsteps.