Note to students: You're welcome to comment on this post for a grade.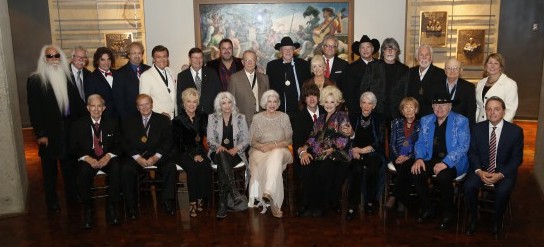 Earlier this week, the Country Music Hall of Fame formally welcomed its new class of inductees, which included the vocal harmony groups the Browns (in the Veterans Era category) and the Oak Ridge Boys (in the Modern Era category), as well as the iconic guitarist Grady Martin. At some point, the new members and the old members who attended the ceremony got together for the kind of photograph that my family takes after weddings and other family reunions. Looking at the picture, I had the following thoughts:
Of course Brenda Lee is sitting in Grady's son's lap. She's 70 years old and still the queen of the "Christmas party hop."
What a shame that Jim Ed Brown, the best known of the three Browns, couldn't make it. At least the Hall of Fame had the heart to bring the medal to his hospital bed before he died.
For all the complaining I do about the Hall of Fame, I have to admit they made a great decision inducting Connie White. Despite the record-shattering success she had with "Once a Day" in 1964, she's exactly the kind of woman performer that the Hall of Fame typically overlooks.
In this group, Vince Gill (58) and Garth Brooks (53) look like teenagers. Vince needs to shave.
I also couldn't help but wonder about all the people without medals who were left to stand around eating cocktail weenies on toothpicks while the picture was being taken — among them Garth's wife Trisha Yearwood and Connie's husband Marty Stuart.
But Trisha and Marty are only two of many worthy performers who are still waiting for the Hall to welcome them in. Being inducted into the Country Music Hall of Fame wouldn't mean anything if they let everybody in, and yet there are some exclusions that make me scratch my head more than others.
Here are five names that I would love to see recognized next year with plaques in that hallowed Nashville rotunda:
1. Rose Maddox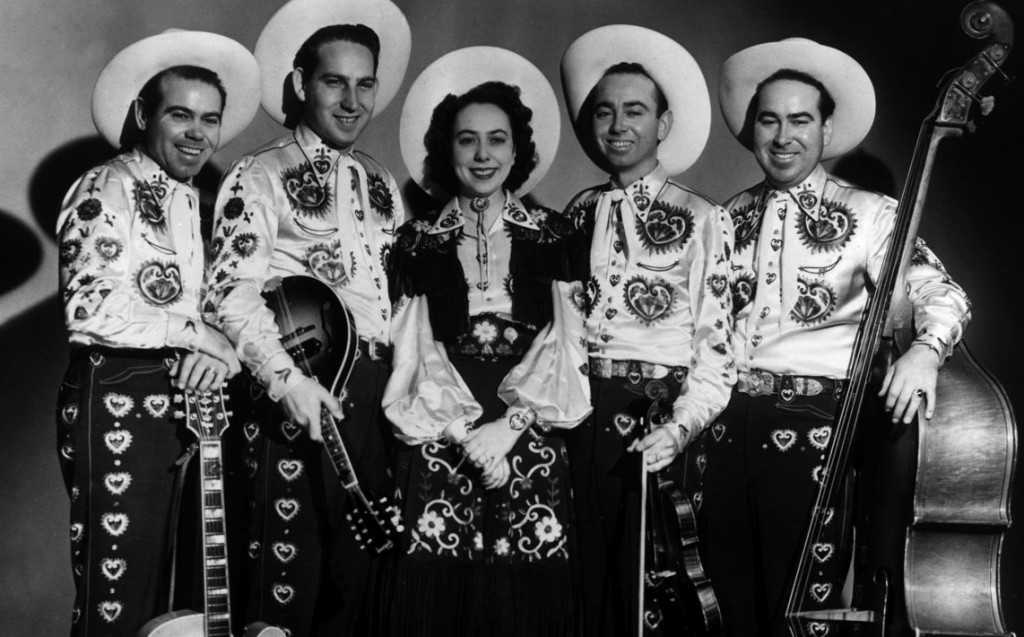 Rose Maddox led a storied career as a sassy country belle for more than 40 years. As the lead vocalist of the Maddox Brothers and Rose in the 1940s and 1950s, she helped invent rockabilly music, she popularized the flashy suits that everyone from Porter Wagoner to Marty Robbins would be wearing by the late 1960s, and she primed the live country scene in California for the likes of Wynn Stewart (also uninducted), Buck Owens, and Merle Haggard. As a soloist in the 1960s, she had several chart hits, and her influence can be heard in many of the women who followed her into the industry, among them Jean Shepard, Wanda Jackson, Brenda Lee, Patsy Cline, Loretta Lynn, and Dolly Parton — all of whom (but Wanda, see below) have beat poor Rose into the Hall of Fame. Seriously, what more can a gal do?
2. Skeeter Davis
In 1953, Skeeter Davis and her friend Betty Jack Davis made history as the first female group to hit #1 on the country charts with "I Forgot More than You'll Ever Know about Him." Their hopes of becoming a successful duo were dashed later that summer, when Betty Jack was killed in a car accident. A few years later, Skeeter re-emerged as a solo performer, and in the early 1960s she racked up a number of pop-country crossover hits including "The End of the World," which is one of the decade's most enduring songs in any genre. In the 1970s, she shed her image as an innocent girl singer and recorded edgier material including the anti-war song "One Tin Soldier." Along with Dottie West she is one of the few major stars of the Nashville Sound era who hasn't yet been recognized by the Hall of Fame.
3. Stonewall Jackson
While we're on the subject of big stars from the 1960s who're still waiting for their Hall of Fame plaques, let's talk about Stonewall Jackson. As one might expect from a guy who was named after a Confederate general, Jackson brought an appreciation of history to some of his biggest hits, among them 1959's "Waterloo," which uses Napoleon's defeat as an allegory for falling in love, and 1966's "The Minutemen (Are Turning in Their Graves)," which draws a contrast between the American Revolution and the anti-Vietnam protests of the 1960s.
He hasn't recorded a new album since the late 1970s, but he has continued to perform on the Grand Ole Opry. Why he hasn't been inducted yet is anybody's guess. Maybe it's because the lawsuit he filed against the Opry in 2008 for age discrimination turned some powerful Nashvillians against him. Maybe it's because the Hall of Fame knows that late night TV shows and The Onion will have a field day if it inducts an artist whose name conjures such strong images of the Confederate south. Whatever the hold-up is, I just hope the Hall gets over it while the guy's still alive to enjoy it. The pictures of him attending other people's induction ceremonies are heartbreaking.
4. Wanda Jackson
I fell in love with Wanda Jackson last year, when I caught her performing a live show at the Continental Club. Even at age 77, she was a ball of fire, shrieking like a sex-starved inmate during "Riot in Cell Block #9," yodeling her way through "I Betcha My Heart I Love You," and turning the heat up on Amy Winehouse's "You Know I'm No Good." The Rock & Roll Hall of Fame has rightfully recognized her contributions to rock music, but really, rock was a short detour for Jackson, who started her career singing country music and returned to country music when the rockabilly moment passed. In the 60s, she racked up an enviable number of Top 40 country hits, including "The Box It Came In" (1966) and "My Big Iron Skillet" (1969), which warned no-good husbands that their wives might do them in if they didn't clean up their acts. As a sign of her versatility, Jackson has also recorded albums in German and Japanese.
5. Hank Williams, Jr.
Hank, Jr., has sold 70 million albums over the course of a career that began in in 1964 and shows no signs of stopping any time soon. With eleven #1 songs (and more than 30 others that reached the Top 10), he is, as my country blog-hero Trigger puts it, "the most decorated artist to not be in the Hall of Fame who has been eligible for an extended period." I don't care for the guy's politics, but that doesn't mean I don't think he's a major and positive influence on country music, or that the Hall hasn't taken too long getting 'round to recognizing him. Make it a "Family Tradition," y'all.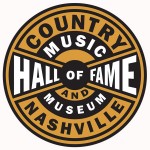 With the 2015 induction complete, the Country Music Hall of Fame can turn its attention to selecting the next three members to join its exclusive ranks. This country fan can only hope that when the new class is announced early next year that one of these five deserving names will finally be called.