Editor's note: This is an example of Blog Post #5.
Many people have asked me what it's like to be in this class and what we do. Well, I can honestly say I have learned more about the history of country music and artists in the country world than I could ever imagine. This class has taught me to expand my horizons and given me an insight on new experiences, which I'm about to list.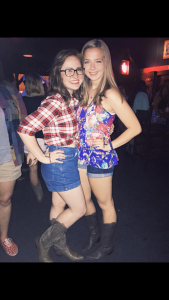 1. I went two-stepping for the first time
I can honestly say I never would have though my first two-stepping experience would have been in Austin, Texas, but I'm so glad it was. I had no idea that going country dancing was a pretty popular thing for UT student to do. It was a very nice break from the usual sixth street adventures for a couple of reasons. Most of the men there were gentlemen who knew how to really twirl me around the dance floor, and I was able to learn new dances to songs I'd never heard before. It was definitely a memorable experience
2. Watching the 2015 CMA's
This one stuck out a lot to me. I'm going to focus my attention on Miranda Lambe.rt because not only did she do an amazing job performing, but she also won Female Vocalist of the Year. I think I want to focus on this because Miranda went up there and performed like the badass she is with her pink tinted hair and accepted her award in a "Chris Stapleton" t-shirt. Miranda has influenced my outlook on country music a lot because she is such a strong female role in country music. Even with the recent divorce from Blake Shelton, she still gets up there and shows everyone what she is about and I think that is amazing.
3. Reading Texas Music Magazine
Actually, a big article that stuck out to me was "When Dallas Rocked", which is all about how Austin is overstating that it is the "Live Music Capital of the World". This article is all about a film that explains that Dallas use to be the place to be for music back in the day. I thought this was super interesting because I'm not from Dallas and I don't go there often, so I never thought of it as being a big music scene. Then again, I think I am bias to Austin because I have experienced the live music here. This article did make me think of country music on a bigger level and how it's a big deal for some places to have the claim of where things began. It gives me another perspective of how important music is.
Whether it's two-stepping or reading articles, I never knew I could gain so much knowledge from this class. I'm so happy I decided to be a part of this adventure and I thoroughly enjoy teaching my family what I have learned about country music and the important roles it plays in our history. These experiences have taught me a lot and were a lot of fun, I can't wait to continue my understanding of country music in the future. I started this semester with little to no true background information on country music, and I can honestly say I feel like I have learned a lot. I have a different outlook on certain songs and catch myself analyzing what they mean and picking out the instruments I hear in the background. I've also made it a habit that if I hear of an artist I'm not familiar with, I will immediately look them up and listen to their music. I think country music and these experiences have most importantly taught me to be open minded and aware of the music around me.