Editor's note: This is an example of Blog Post #5.
On the week leading up to November 4th, I made sure I got all my assignments completed so I could clear my schedule on that Wednesday night to watch the entire CMA broadcast. This would be the second year of a tradition that I started with fellow classmate, Matt Wills. We only had one yet very serious rule: NO TALKING (okay maybe at a whisper but nonetheless, we had learned our lesson from last year).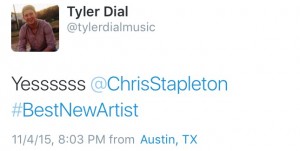 As the night went on, there were far more critiques of performances than there were appraisals; however, it was the best Country Music Awards broadcast I have seen because of one man: Chris Stapleton. Usually I'm a big fan of underdogs but that wasn't the reason I was rooting for Stapleton that night. A few weeks before, Matt and I were lucky enough to experience the powerful vocalist at an intimate 200-person concert in New Braunfels. When he won Best New Artist of the Year, Matt and I cheered and hugged like our favorite team had just won the game in the last second of overtime. His victories that night, along with his Justin Timberlake performance, proved that country music still has soul. Chris' triumph that night wasn't just a personal triumph but also one for Country music.
One of my least favorite performances that night was from one of my all-time favorite artists, Zac Brown. Being such dedicated country fans as you have come to learn through our blog posts, Matt and I decided to give Zac another chance when he performed at the 360 amphitheater on November 8th. Although it wasn't as intimate as Stapleton's performance in New Braunfels, Brown put on a great show that showcased his versatility as a musician. He busted out crowd-pleasers like "Bohemian Rhapsody" and "Let It Be." My favorite performance of the night was when he played "Colder Weather." By the end of the night, I was so excited to have seen one of my musical heroes but to be honest; I was a little disappointed with the song selection. Adding several covers meant that Brown had to leave out originals like "Whatever It Is," "Keep Me In Mind," and my personal favorite off his new album, "Bittersweet." Regardless of his song selection, it was a valuable experience learning and observing one of the best entertainers in the Country music format.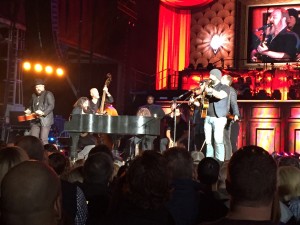 This past weekend, I was fortunate enough to fly to San Jose to see two Garth Brooks shows and to play a post-show concert for KRTY, a big San Jose Country station. While I could spend the rest of the blog describing the Garth show, I'm going to be a little selfish and talk about my show! The event was held at San Jose's Broken Spoke, a honkytonk just like the one in Austin. Walking in through the back door, I had no idea what to expect. The place was packed. I went on stage, with just me and a guitar, after a full band. Not only was the band a tough act to follow, but so was everyone's highlight of the night, Garth Brooks. I kicked off the solo set with an original, "Make Our Own Fun." It was incredible to see people in the crowd immediately start two stepping. They picked it up each song as I went from "Good Directions" to my single "Damn Good Time" then to "Wagon Wheel." I finished off the night with outstanding crowd reception of Garth's "Friends In Low Places." It was incredible witnessing the two-stepping experience from the other side of the stage. I was even able to sneak in a dance after my set.