Note to students: This is an example of Blog Post 5, which asks you to reflect on the experiences you have had with country music outside of class.
This year I have been so blessed to experience so many fun nights and adventures–and I owe several of these good times to the thrilling Austin country music scene. Here are a few of the fun things I have gotten to do this semester:
Brad Paisley Concert. It was early on in the school year but the Brad Paisley concert was quite an experience. Believe it or not it was my first country music concert ever. Of course I had been before to events where country bands were playing, but this was my first time seeing a big country star live. Pat Green opened for Brad which was exciting because I had heard of him and knew a few of his songs. They both played their hits and some other songs I had not heard before. The night was slightly rainy before but it cleared up for the concert and the weather was perfect. I danced and sang with my friends until the final song. It was the perfect first country concert!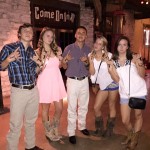 Dance Across Texas (formerly Midnight Rodeo). Earlier in the semester a couple of my friends and I decided spontaneously to go two-stepping on a thursday night. It was labor day weekend and we were ready to kick it off by dancing the night away at Dance Across Texas. When we arrived we found that the entry fee had escalated quite a bit from before the transition from Midnight Rodeo. We were so excited to dance that it didn't matter. We snapped a few pics and then ran inside to the tune of a familiar country song. My friends and I danced and sang all night long amongst the elderly folk, true Texan cowboys, and pool playin' rednecks. Several times we formed a circle and danced with some elderly ladies who knew how to bust a move or two. The night was one to remember and I am looking forward to another spontaneous trip to Dance Across Texas!
Nashville. For my final country music experience I watch the pilot episode of the hit TV series Nashville. I'll just say this–it was FANTASTIC. I'm honestly probably going to be hooked on it from here on out. The episode deals with an issue we have discussed in class, which made me feel like I had some insight that I would not have had otherwise. The main character Rayna has hit a point in her career where she is a little too old to be selling #1 hits and her label is losing money. They ask her to join tours with an up-and-coming country music diva Juliette Barnes. Rayna is so dismayed that her label would make her open for this young artist that she walks out on them. This reminded me of our class discussion on outlaws. Rayna is an example of a country music artist who will not allow her label to define her or stoop to the level of an opening act after building her career for over twenty years. I strongly recommend this show to anyone who is interested in learning about the business side of country music.
I'm so thankful for the fun times I have had this semester and I owe it to my country music class for pushing me to do things that I would not have even known about or considered before this year.