The American Country Music awards ceremony for 2016 will take place tomorrow night, Sunday, April 3rd. Or if you're reading this after that date, well then, you can bet they've already happened! I'm just waiting to see if Rascal Flatts will win Vocal Group of the Year again – because if they win, this will be their eighth 'Vocal Group' trophy. And they're already the current record holders for most wins in that category!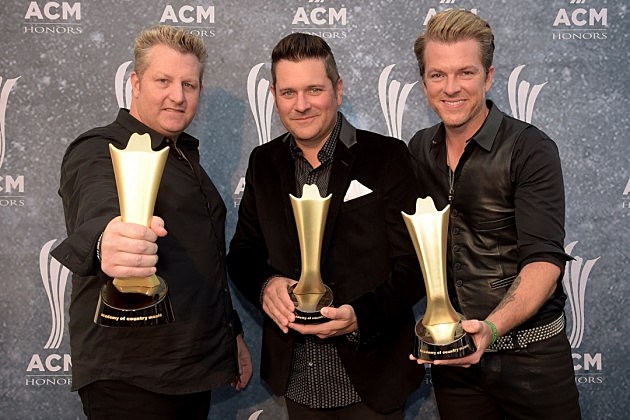 In this picture of them holding up their trophies at last year's ceremony, the lead singer (Gary LeVox) is on the left. He's definitely aged since I started listening to Rascal Flatts back when "Life Is a Highway" was their biggest hit nearly a decade ago. My sister had shared this song and another one by Rascal Flatts with me back then, even though I had told her repeatedly that my then pre-teen self wasn't into country music.
Well, after I listened to that song a couple of times (and found myself humming the catchy tune without even thinking about it), I thought that maybe I should give country music more of a try.  The other song she shared with me though is the one that, for whatever reason, really made me love the genre, and that song is… "Mayberry", which was released in 2002.
The funny thing is that until I had heard this song (and "Life Is a Highway" for that matter), I believed my friends who said that country music was only about girls, trucks, and beer  – three things I wasn't too interested in at the young age of 11. But after hearing "Mayberry"  when my sister shared it with me, it became one of my favorites. And it still is to this day.
I loved the lead singer's smooth voice and the catchy background vocals of the song, but more than that, the lyrics are what made this song my gateway into country music. Just like I did back then, I'll occasionally listen to "Mayberry" when I get stressed out, wishing my Sundays were "a day of rest / not one more day – for progress." I'll listen to it when I'm driving through the countryside, passing by small towns and wondering if those were places where "people pass by / and you call them by their first names." As someone who's only ever lived in the heart of traffic-filled Austin, I wonder what it would be like to live in a small Mayberry-like town – the type of place with a slow enough  pace for "sitting on the front porch / drinkin' ice cold cherry coke / watchin' the clouds go by," instead of the cars.
Even though Mayberry is a fictional small town, the song just seemed so real to me back then. And it's been giving me at least a mental escape from the hustle and bustle of big city life every time I've listened to it since then. It's truly the song that got me listening to more country music, namely artists like Lonestar and Toby Keith that my sister also showed me a little while later. Ever since "Mayberry", I realized that country music had a way of allowing me to be introspective and just get lost in a song. That's one of the things about country music that keeps me coming back to listen to more.